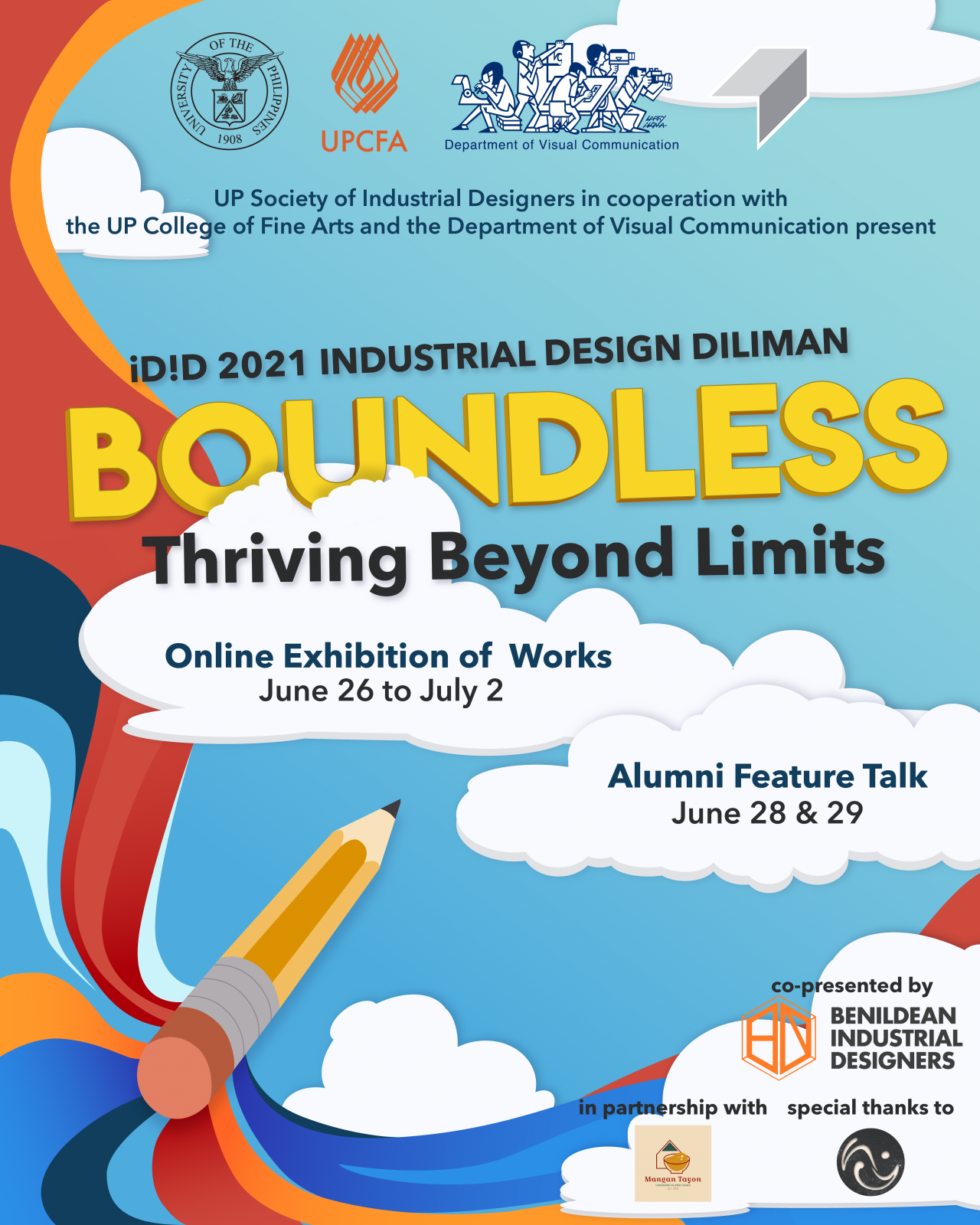 Throughout the world, the design community celebrates June 29 as World Industrial Design Day (WIDD). To mark this significant day, it is with infinite pride that the UP Society of Industrial Designers in cooperation with the UP College of Fine Arts and the Department of Visual Communication present: iD!D 2021 Industrial Design Diliman BOUNDLESS: Thriving Beyond Limits
In the midst of a growing pandemic and the isolation that comes with it, the event aims to motivate students, keep them up to date on industry practices, and promote the many job options available to an Industrial Design graduate. This event will include a two-day career presentation by six program alumni, as well as a week-long online exhibit showcasing student and alumni work.
Online Exhibition of Works [June 26 – July 2 via Facebook]
The online exhibition will showcase the works of the featured alumni, as well as the works of students and alumni interested in participating.
Alumni Feature Talk [June 28 – 29 at 1:00-5:00 PM via Zoom] The 2-day career talk will feature 6 outstanding graduates of the UP Industrial Design program selected to represent a wide range of design specializations. The career talks will feature: Jeff de Jesus, Bea Siasico, Lilianna Manahan, Lek Pamintuan, Gerome Sta. Maria, and Micki Olaguer.
So, what are you waiting for? Make a note of it on your calendars and save the date! On June 26 to July 2, iD!D 2021 Industrial Design Diliman BOUNDLESS: Thriving Beyond Limits will take place. We hope to see you there!
In cooperation with
UP College of Fine Arts' Department of Visual Communication
Co-presented by
Benildean Industrial Designers – BIND
In partnership with
Mangan Tayon
Special thanks to
Nin and Yang
#iDID2021 #WIDD #ServiceByDesign #UPSIDE
Caption and Pub by: Dat Rafanan and Jemimah Ladeza