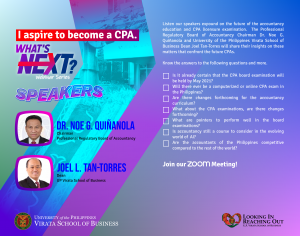 You are invited to attend the Zoom webinar entitled "I aspire to become a CPA.  What's next?"  This will be held on
August 15, 2020 from 10AM to 12 noon.
LIsten to our speakers expound on the future of the accountancy education and CPA licensure examination.  The Professional Regulatory Board of Accountancy Chairman Noe Quinanola and University of the Philippines Virata School of Business Dean Joel Tan-Torres will share their insights on these matters that confront the concerns of the future CPAs.
Know the answers to the following questions and more
Is it already certain that the CPA board examination will be held by May 2021?
Will there ever be a computerized or online CPA exam in the Philippines?
Are there changes forthcoming for the accountancy curriculum?
What about the CPA examinations, are there changes forthcoming?
What are pointers to perform well in the board examinations?
Is accountancy still a course to consider in the evolving world of  AI?
Are the accountants of the Philippines competitive compared to the rest of the world?
Details to the Zoom webinar will follow in a separate email
Registration shall be required to join the webinar.   Register in advance for this webinar st:
Once you are registered,  you will be emailed a unique join link for the webinar.