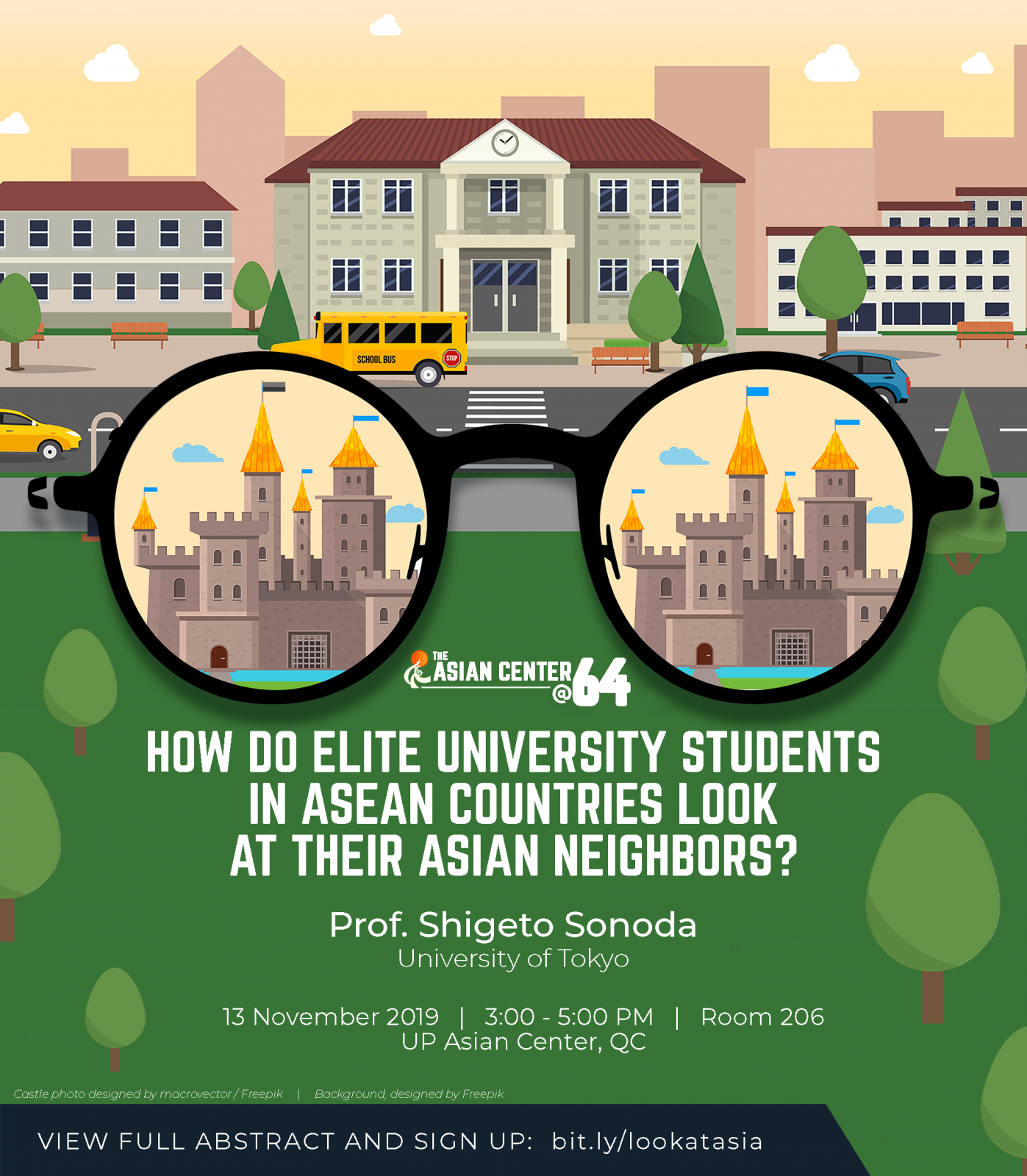 The UP Asian Center will hold a public lecture, "
How Do Elite University Students in ASEAN Look at their Asian Neighbors?: An Analysis of Asian Student Survey 2013-2018
,
" 
on 13 November 2019, 3 pm–5 pm at the UP Asian Center, QC. The event is free and open to the public. Seating is first come, first served. Walk-ins are welcome, but participants are encouraged to sign up.
ABSTRACT
The presentation presents an analysis of the Asian Student Survey (2008-2018) to show indications of the "ASEAN-centrality mentality" among the elite university students in six ASEAN countries — Philippines, Vietnam, Thailand, Malaysia, Singapore and Indonesia. Through the use of opinion polls, it emphasizes social psychology to locate interconnected among people of ASEAN countries. It explores the perceptions and attitudes of students towards member countries as compared to non-ASEAN states, the social connectivity among students of ASEAN states, their desire to study in member countries and their shared views on the rise of China.
SPEAKER PROFILE
Shigeto Sonoda is a professor of sociology and Asian Studies at the Institute of Advanced Studies on Asia (IASA), University of Tokyo. He is also the director of the Beijing Center for Japanese Studies in China. Among his research interests are social stratification and globalization of cultures in Asia, and localization process of Japanese company in Asian countries. His latest publications are China Impact: Threat Perception in Asia-Pacific (2018) and How to cope with "China Risk": The Challenges of Japanese, Korean, and Taiwanese Firms (2016).
HAPPY 64th BIRTHDAY, ASIAN CENTER

This event is part of the Asian Center's 64th anniversary celebrations. View full list activities and sign up. Professor Sonoda's lecture is one of four activities scheduled on 13 November:
• How Do Elite University Students in ASEAN Look at their Asian Neighbors? | A Lecture
• Encounters with Silence | A Screening and Forum on 'Lonely Death' in Japan
• South Sulawesi, Indonesia as a Field of Historical Study | A Public Lecture
INQUIRIES AND VICINITY MAP