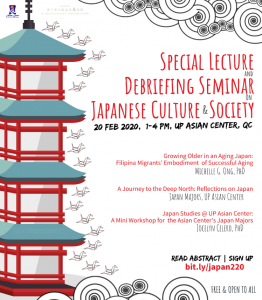 The UP Asian Center will be holding a special lecture and debriefing seminar on Japanese society and culture on 20 February 2020, 1 pm–4 pm, UP Asian Center. QC. The event is free and open to the public, but seating is first-come, first-served basis. Walk-ins are welcome, but participants are encouraged to sign up:
PRESENTATIONS

Growing Older in an Aging Japan: Filipina Migrants' Embodiment of Successful Aging
      Michelle G. Ong, PhD
Migration and aging intersect in Japan in a unique way. Both have long been discussed in public discourse as threats to economic and social stability but are now also being regarded as offering opportunities. It is within this nexus and state of flux that I explore the intersections of gender, age, and migrant status through interrogating Filipina migrants' meaning-making around aging in Japan. Using a poststructuralist approach to language together with a framework based on critical psychologies, I analyzed individuals' stories about growing older to examine larger social discourses around aging and migration. For this presentation I focus on the discourse successful aging.
I argue that such a discourse is recognized and valued by Filipina migrants in Japan and is shaping how they experience their own aging. Filipina migrants produce a positive subjectivity for themselves by claiming they are responsibly managing their own finances and their health so as to ensure they are not a burden to society and to their families. Of note is the possibility of transnational retirement as a strategy for successful aging. These claims reflect neoliberal ideas in their focus on individual choice and responsibility for one's aging even while state support for services for older people is reduced (Coole, 2011). Despite the seemingly more positive, alternative discourse of aging that is available, negative discourses around older people as a burden to society remains, and it is older people themselves who are asked to take on the burden of growing old under a successful aging discourse.
A Journey to the Deep North: Reflections on Japan
     Japan Majors, UP Asian Center
Five students who went on a study tour of Japan in December 2019 will reflect on their visit.
SPEAKER PROFILES

Michelle G. Ong is a full-time faculty member of the CSSP Dept. of Psychology. She has previously lived in Kyoto, Japan as a visiting graduate student, wife to a visiting researcher, and a visiting researcher herself. This study is an extension of her doctorate research on Filipina migrant's embodiment of aging in New Zealand, made possible by funding from the Japan Foundation.
Jocelyn O. Celero recently obtained her Ph. D. in International Studies at Waseda University-Graduate School of Asia-Pacific Studies, Tokyo, Japan. Her dissertation examined the transnational life trajectories of 1.5- and second- generation Japanese-Filipinos. She has taught in the Philippines and Japan for more than 10 years. She serves as Assistant Professor at the Asian Center, University of the Philippines beginning 2018.