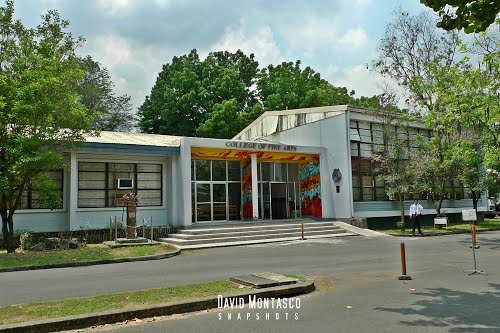 12 February 2016 (Friday) Groundbreaking 4 pm
Bartlett Hall
College of Fine Arts, UP Diliman
The University of the Philippines College of Fine Arts (UPCFA) will be holding the groundbreaking rites for its new Art and Design Hall on February 12, 2015.
The structure will be built beside the existing building at Bartlett Hall. It will serve as the new faculty building and provide additional class and studio spaces for UPCFA students.
The  groundbreaking will be held at 5 p.m. on February 12, Friday. opening with a simple ceremony to be led by UPCFA Dean Leonardo Rosete along with the college's faculty, alumni and students. Chancellor Michael Tan, Vice-Chancellor for Research and Development Fidel Nemenzo and other UP officials will also be attending the event.
The highlight of the ceremony will be the ritual offering and sealing of Gunita, a stoneware jar and time capsule to be filled with memorabilia and messages from the witnesses and to be embedded in the new building grounds. Gunita was created by the UPCFA Ceramic Studio, led by Prof. Rita Badilla-Gudino and Prof. Romanlito Austria.
The new Art and Design Hall marks a new phase in the college's history. As the oldest institution of fine arts in the country, the UPCFA traces its roots to the 19th century Academia de Dibujo y Pintura established by Damian Domingo in 1823 in Binondo, which closed down but was later reopened in 1845. During the American colonial period, the institution was the model for the School of Fine Arts, among the founding units of the University of the Philippines. From its former location in Ermita, the school transferred to Taft Avenue in 1933 and to the Diliman campus in 1949. Within UP Diliman, the school was housed for a time in Melchor Hall and the Main Library.
The UPCFA moved to its present site along E. Jacinto Street in 1991 during the term of Dean Nestor Olarte Vinluan. The proposed Art and Design Hall aims to meet the needs of the UPCFA's increasing population of students and the expansion of programs and facilities offered during the past two decades.
The groundbreaking ceremony precedes the exhibit opening of Comrades in Art '66, an exhibition of golden jubilarians from the UPCFA Batch '66, at the Corredor, UP Fine Arts Gallery, and the UP Fine Arts Week, a celebration of National Arts Month, from February 15 to 19.
Comrades in Art '66 runs up to March 5 and features works by Johnny Altamonte, Armand Bacaltos, Heber Bartolome, Glenn Bautista, Santiago Bose, Imelda Cajipe-Endaya, Ernie Canlas, Lito Carating, Romeo Carlos, Antonio Daroy, Emmanuel Garalde, Tony Pajaro, Menchu Pascual, Pablo Baen Santos, Hermisanto, Roy Veneracion, Lynett Villariba, Nestor Vinluan and Junyee.
For inquiries, please contact the UPCFA at 981.8732,  920.9910 (telefax), or 981.8500 local 3977.  Visit www.cfa.upd.edu.ph or email upcfinearts@gmail.com for more updates.