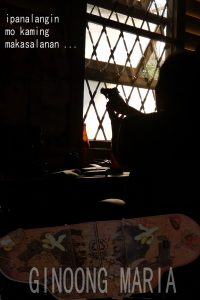 September 21 
Ginoong Maria 
Premiere screening at UPFI 
Cine Adarna, UPFI Film Center

Ginoong Maria directed by Jon Red is a black comedy inspired by true events. It is a fictional gangster tale and a parody of key figures in the current political arena. Dindo, now a family man, is being recruited back to a syndicate involved in the lucrative business of killing. He is torn between a personal ambition and his loved ones- a wife and a daughter. These imagined characters are set against the background of a more surreal scenario: a world of EJKs, fake news, misogynistic & corrupt leaders and fanatic followers.
A curse that is yet to be broken. A nightmare that never sleeps.
Everything is political. And everything is personal.

Admission fee is P150. 

Tickets are available at the cinema entrance one (1) hour before the screening. 

For more information, contact Sinag / Jack at 9818500 local 4286, 9263640 and 9262722; or visit https://www.facebook.com/upfifilmcenter/.