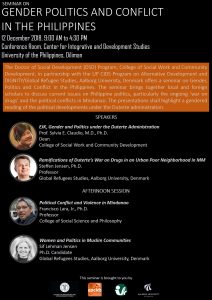 Disyembre 12
Conference Room, CIDS
UP Diliman
9 a.m. – 4:30 p.m.
The seminar brings together local and foreign scholars to discuss current issues on Philippines politics, particularly the ongoing 'war on drugs' and the political conflicts in Mindanao. The presentations shall highlight a gendered reading of the political developments under the Duterte administration.
The seminar is organized by the Doctor of Social Development Program of the UP College of Social Work and Community Development, in partnership with the UP CIDS Program on Alternative Development and DIGNITY/Global Refugee Studies, Aalborg University.
Topics include:
EJK, Gender and Politics under the Duterte Administration
Prof. Sylvia E. Claudio, M.D., Ph.D.
Dean
College of Social Work and Community Development
Ramifications of Duterte's War on Drugs in an Urban Poor Neighborhood in MM
Steffen Jensen, Ph.D.
Professor
Global Refugees Studies, Aalborg University, Denmark
Afternoon Session
Political Conflict and Violence in Mindanao
Francisco Lara, Jr., Ph.D.
Professor
College of Social Sciences and Philosophy
Women and Politics in Muslim Communities
Sif Lehman Jensen
Ph.D.
Global Refugees Studies, Aalborg University Denmark