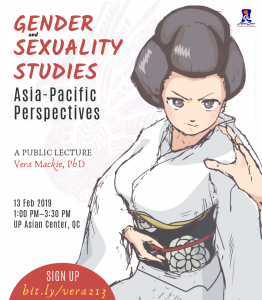 The UP Asian Center will be hosting a public lecture by Dr. Vera Mackie, "
Gender and Sexuality Studies: Asia-Pacific Perspectives," 
on 13 February 2019, 1 – 3:30 pm, at the UP Asian Center, Quezon City. The lecture is free and open to the public. Seating is first come, first served. Walk-ins are welcome, but participants are encouraged to sign up.
ABOUT THE LECTURE
Dr. Mackie will discuss the necessity of placing gender and sexuality in a transnational frame, and survey other local issues in gender and sexuality in East Asia.  She will draw on her experience in co-editing "The Routledge Handbook of Sexuality Studies in East Asia" (Routledge 2015) and "Rethinking Sexual Citizenship: Asia-Pacific Perspectives," (2017) a special issue of the journal, Sexualities.
ABOUT THE SPEAKER
Vera Mackie is Senior Professor of Asian and International Studies in the School of Humanities and Social Inquiry at the University of Wollongong, Australia. She is also the Director of the Center for Critical Human Rights Research, which advocates for human rights and security through a collaborative and community-engaged research approach. Read more.
INQUIRIES
For queries, please email asiancenter@up.edu.ph.