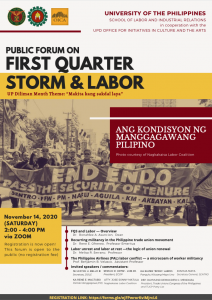 The UP School of Labor & Industrial Relations in cooperation with the UP Diliman Office of Initiatives in Culture and the Arts (OICA) UP Diliman Month Theme: "Makita kang sakdal laya" Invites you to an online public Forum on First Quarter Storm (FQS) and Labor — Ang kondisyon ng manggagawang Pilipino
Date: 14 November 2020 (Saturday); 2:00 to 4:00 pm
Topics and speakers
The First Quarter Storm (FQS) and Labor — an Overview
Dean Ronahlee A. Asuncion
Recurring militancy in the Philippine trade union movement
Dr. Rene E. Ofreneo, Professor Emeritus
Labor unrest and labor at rest —the logic of union renewal in the Philippines
Dr. Melisa R. Serrano, Professor
The labor conflict in the Philippine Airlines (PAL) — a microcosm of the ebb and flow of worker militancy in Philippine unionism
Prof. Benjamin B. Velasco, Assistant Professor
Invited speakers from ECOP, TUCP, KMU and Partido ng Manggagawa
Rationale and objectives
As part of the activities related to the UP Diliman commemoration of the First Quarter Storm (FQS), the UP School of Labor and Industrial Relations (SoLAIR) is organizing a public forum to reflect on how the historical events of the FQS in the 1970s had an impact on Philippine trade unions as the voice of organized workers.
The FQS happened in the background of the Cold War ongoing between the US and the Soviet bloc, global protest movements against the Vietnam War with the US defeated in 1975, and the Cultural Revolution in China (1966 to 1976).
The Philippine Labor Code (Presidential Decree 442, 1974) was issued by President Ferdinand E. Marcos under martial law, along with the institution of tripartism as a policy and the establishment of both the Trade Union Congress of the Philippines (TUCP) and the Employers Confederation of the Philippines (ECOP).
What is the future of tripartism, and what should be done to strengthen voice and representation of Phllippine workers, guaranteed by the Philippine Constitution and labor laws? The lessons of FQS and labor 50 years ago should guide thinking and strategic actions in the next 100 years of labor in Industry 4.0 and Work 5.0 onwards.
Online registration here:
https://docs.google.com/forms/d/e/1FAIpQLSdp6be-pbCGXJisVP2ntC0JtnaSMoK1DQ7M-K2HHOorF1gbiA/viewform