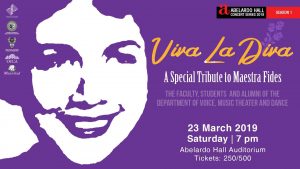 Abelardo Hall to honor opera diva on March 23
Legendary soprano, librettist and actress Fides Cuyugan-Asensio will be honored this month as she celebrates her 52nd year in the University of the Philippines College of Music, where she is a professor emeritus and its most revered voice teacher.
Abelardo Hall Concert Series will present Viva La Diva: A Special Tribute to Maestra Fides on Saturday, March 23 at 7:00 p.m. featuring a wide repertoire selected from her memorable career highlights. UP College of Music alumni, faculty and students will be performing works by Felipe Padilla de Leon, George Gershwin, Giacomo Puccini, Florencio Tolentino, Restie Umali, Potenciano Gregorio, Francisco Santiago, Guiseppi Verdi, and Rodgers and Hammerstein.
Among the singers taking part in this sentimental homage to Maestra Fides are Jay Valencia-Glorioso, Ramon Acoymo, Ana Feleo, Nomer Son, Lorna Lllames-Reyes, Katherine Molina, Rainier Cruz, Stefanie Quintin, Kelly Peralejo, Angelica Benipayo, Raymond Roldan, Jeanelle Roldan and Bianca Lopez. Opera workshop and opera chorus classes led by Rica Nepomuceno and Jai Sabas-Aracama, respectively, will also perform along with conductor Raul Navarro, pianist-accompanist Augusto Espino, flutist Eric Barcelo and the UP Dance Company.
The production team is led by stage and artistic director Alegria Ferrer and program coordinator Ma. Cecilia O. Valeña. College of Music Dean Verne de la Peña serves as the executive producer, Angel Baguilat is the artistic director for the concert series, while Gigi Javier-Alfonso will direct the TVUP broadcast.
Abelardo Hall Concert Series is a monthly presentation of the UP Diliman Office for Initiatives in Culture and the Arts, UP College of Music Alumni Association, Friends of Abelardo, and Maynilad Water Services. Tickets will be sold at P500 and P250 in the entrance lobby with 50% discount offered to students and 20% discount for senior citizens.
You can also reserve tickets by calling Faye Manuzon at 926 0026 or 981 8500 loc. 2629, by clicking https://goo.gl/forms/cpuslhE7kAWKHBos1 via email at abelardohall.music@gmail.com or by messaging the Abelardo Hall Concert Series Facebook page.