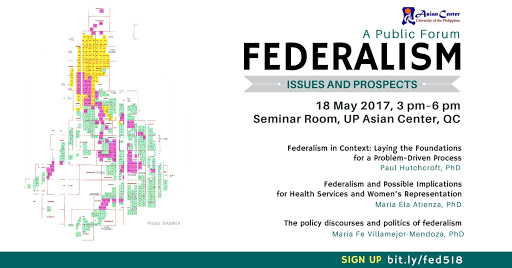 Alternatiba, in cooperation with the UP Asian Center, will be holding a public forum, "Federalism: Issues and Prospects," on 18 May 2017, 3:00 pm to 6:00 pm, Seminar Room, UP Asian Center, QC. The forum is free and open to the public, but seating is first-come, first-served, and participants are encouraged to sign up.
ABOUT THE FORUM
Aiming to raise public awareness and generate policy debates on federalism that would have profound implications on the country's political and policy institutions, the forum features three presentations:
"Federalism in Context: Laying the Foundations for a Problem-Driven Process of Political Reform" by Dr. Paul Hutchcroft
"Federalism and Possible Implications for Health Services and Women's Representation" by Dr. Maria Ela Atienza
The politics and policy discourses of federalism by Dr. Maria Fe Villamejor-Mendoza
ABOUT THE SPEAKERS
Dr. Paul Hutchcroft is Lead Governance Specialist of the Australian Embassy in Manila and Professor (on leave) at the Australian National University.
Dr. Maria Ela Atienza is Chair of and Professor in the Department of Political Science, University of the Philippines Diliman
Dr. Maria Fe Villamejor-Mendoza is Dean of the National College of Public Administration and Governance, University of the Philippines Diliman.
ABOUT ALTERNATIBA
Alternatiba is a newly formed network of social movement activists and political organizations. It is based in Barangay Pinyahan, Quezon City, Philippines.
VENUE And VICINITY MAP
Vehicles entering the UP Asian Center (GT-Toyota Asian Cultural Center) grounds can only do so via the gate on Magsaysay Avenue that is near a UP guardhouse, a few meters away from Katipunan Avenue, and across Maynilad. A small gate for pedestrians on Guerrero St. lies across the College of Law parking lot and a few meters away from a waiting shed, where the Ikot jeepney, and jeepneys from Philcoa and SM North pass by. VIEW VICINITY MAP and GOOGLE STREET VIEW
INQUIRIES And ATTENDANCE
If you are planning to come with/as a big group (a class or delegation), please inform us the number of participants at  asiancenter@up.edu.ph. It would also be best if their names could be registered online or if you could send us a list of their names.