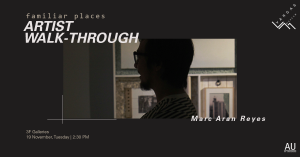 Artist Walk-through
Familiar Places by Marc Aran Reyes19 November 2019, Tuesday, 2:30 pm
3F Galleries
UP Vargas Museum
The UP Vargas Museum, in cooperation with Art Underground gallery, invites the public to attend the Artist Walk-through of Familiar Places by Marc Aran Reyes on the 19th of November, Tuesday, 2:30 pm at the museum's 3F Galleries.
In the exhibition Familiar Places, Marc mines the Vargas library and archives for inspiration. From it he unearths material from Vargas's post-war confinement in Sugamo Prison, as well as photographs of the Vargas family home compound in Mandaluyong. He uses these as take-off points to reflect – through painting, assemblage, and installation – on parallels of the cell and the home as sites of both isolation and remembrance; settings where mundane objects, through time and events, are charged with potential meaning and memory.
Marc Aran Reyes (b. 1990) graduated with a BA in Fine Arts major in Advertising from the Far Eastern University. He was a Semi-Finalist in the 2011 and 2014 Metrobank Art and Design Excellence Painting Competition, and a Finalist in the 2011 PLDT National Visual Arts Competition. In 2014, he mounted his first solo exhibit 'Piece of Mind' at Art Underground gallery; as well as his first international art fair participation the subsequent year at Art Kaohsiung, Taiwan, with Nunu Fine Art gallery. Since then, Marc has exhibited at art fairs in Singapore, Hong Kong, and Japan and has become known for a minimalist hyperrealistic style with figures rendered in black and white oils.
Admission to the walk-through is free of charge. The exhibit Familiar Places is on view until 23 November (Saturday), 2019. For more information, contact the Vargas Museum through our direct line (+632) 8928-1927, the UP trunkline (+632) 8981-8500 loc. 4024, or email vargasmuseum@up.edu.ph.