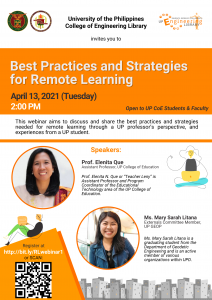 In light of the University's shift to online learning, the UP College of Engineering Library will be holding a webinar series for UP COE students and faculty, to support our library users in this challenging endeavor.
The first session, "Best Practices and Strategies for Remote Learning", will take place on 13 April 2021 (Tuesday) from 2:00-3:00 PM.
The speakers, Prof. Elenita N. Que from the UP College of Education, and Ms. Mary Sarah Litana from the Department of Geodetic Engineering will discuss and share the best practices and strategies needed for remote learning through a UP professor's perspective, and also from a UP student's experience, respectively.
Interested participants may register at bit.ly/RLwebinar1