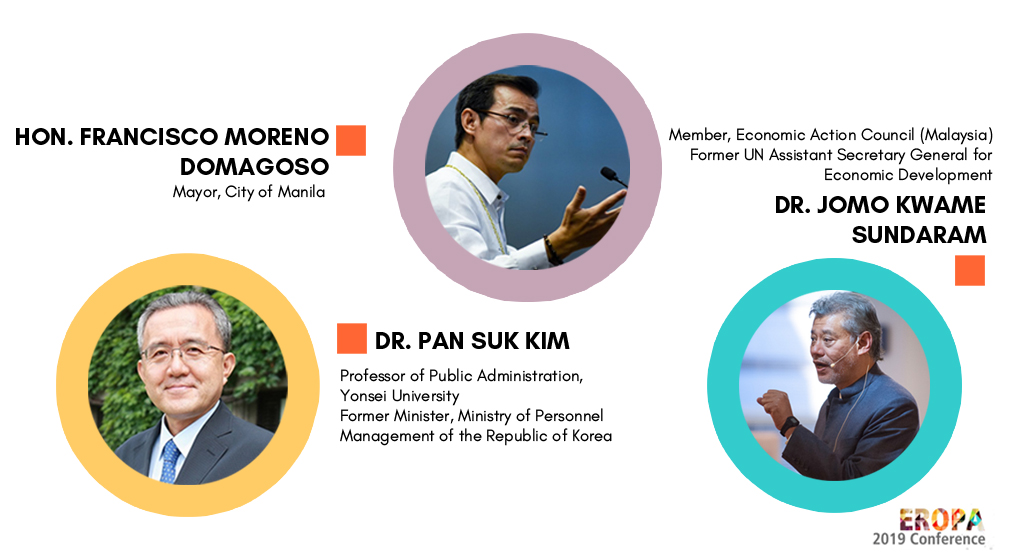 Mayor Isko, former S. Korean minister, and Malaysian economist to speak at 2019 EROPA conference
Manila Mayor Isko Moreno and eminent Asian public administration (PA) scholars will be the keynote speakers in the EROPA 2019 Conference to be held on 23-26 September 2019 at the International Center for Public Administration (ICPA) at the UP-NCPAG complex.
Dr. Pan Suk Kim and Dr. Jomo Kwame Sundaram will share the stage in the opening plenary session entitled Future of Public Administration, which will be held on the opening day of the Conference.
Kim, a Professor of Public Administration in the College of Government and Business at Yonsei University in South Korea, served as Secretary to the President for Personnel Policy and the Minister of the Ministry of Personnel Management of the Republic of Korea. Jomo, meanwhile, is considered as one of Malaysia's top economic strategists. He is a member of the Economic Action Council, chaired by the Malaysian Prime Minister, and was in the 5-member Council of Eminent Persons. In 2007, he received the Wassily Leontief Prize for Advancing the Frontiers of Economic Thought.
Kim and Jomo's session will be followed by the Asian Leadership Forum, which will feature Manila Mayor Francisco "Isko" Moreno Domagoso. The much-talked-about local chief executive will be joined by Cecilia "CB" Garrucho, President of the Philippine Education Theater Association (PETA), Inc. Also speaking in different plenary sessions of the Conference are Department of Education Secretary Leonor M. Briones, UP Resilience Institute Director Mahar Lagmay, UP Vice President for Academic Affairs Cynthia Bautista, and Bruno Carrasco of the Asian Development Bank.
At least 200 public administration and governance scholars and practitioners from the Asia Pacific region are expected to attend the conference, which will focus on the theme "The Future of Public Administration: Rethinking Resilience, Equity, and Sustainability in the Region and Beyond."
The EROPA is an international organization of states, groups and individuals in the region of Asia and the Pacific. The organization was founded in 1960 as a response to the common desire among developing and developed countries to promote regional cooperation in improving knowledge, systems and practices of government administration to help accelerate economic and social development. It was the first organization in the region to be devoted to the development of public administration in order to advance the economic and social development of countries in Asia and the Pacific. Since its foundation, the EROPA Secretariat has been housed in the NCPAG.
NCPAG is hosting and serving as organizing committee of the Conference.