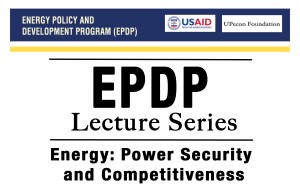 Room 303, Encarnacion Hall (School of Economics)
3:30–4:30 p.m.
A lecture on the forecast of electricity consumption of the Philippines up to 2040 using statistical model and numerical exercise. The forecast is based on two Philippine economy scenarios: strong growth and mediocre growth.
Speakers are Prof. Ruperto P. Alonzo, Dr. Rolando A. Danao, Dr. Raul V. Fabella,
Dr. Dennis S. Mapa and Dr. Majah-Leah
V. Ravago, all faculty members of the UP School of Economics and Research Fellows of Energy Policy and Development Program.
The lecture is free and open to the public. For other inquiries, please email training.epdp@ gmail.com.