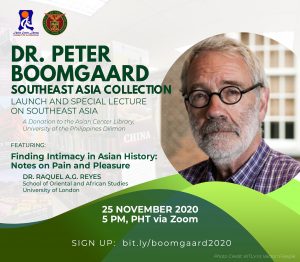 The UP Asian Center will be holding a virtual launch of the Dr. Peter Boomgaard Southeast Asian Collection on 25 November 2020, 5 pm. The event is free and open to the public, but interested participants are required to register using an authenticated Zoom account.
MESSAGES/LECTURES
 Peter Boomgaard's Contribution to Southeast Asian Studies
                   Dr. David Henley, Leiden University, Netherlands
 Inspirational Message
                   Dr. Michael Lim Tan, Professor Emeritus, UP Diliman

Unlocking the Boomgaard Collection
                 Dr. Ariel  Lopez, UP Asian Center
In this talk, Dr. Lopez will reflect on his personal experiences studying Indonesia using Dutch archives, and share how Philippine-based scholars can make use of the Boomgaard Collection.
SPECIAL LECTURE
Finding Intimacy in Asian History: Notes on Pain and Pleasure
                 Dr. Raquel A.G. Reyes

Raquel A. G. Reyes, PhD is the author of Love, Passion and Patriotism: Sexuality and the Philippine Propaganda Movement, 1882–1892 (2009), and the editor of Sexual Diversity in Asia c. 600–1950 (2012; co-edited with William Gervase Clarence-Smith) and Art, Trade and Cultural Mediation in Asia, 1600–1950 (2019). Her research interests include, according to a 2019 author profile, "the history of science and medicine, the history of gender and sexuality, and global trade and local cultural innovation in early modern Southeast Asia, with particular reference to the Philippines."
ABOUT THE COLLECTION
The "Dr. Peter Boomgaard Southeast Asia Collection" holds approximately 1500-2000 books, monographs and edited volumes, including data materials from Indonesia's National Archive in Jakarta.
Largely written in English and Dutch, the materials in the collection focus on disparate subjects ranging from economic, social, cultural, environmental, agricultural (forests, non-timber products, staple crops including rice and sugar), and scientific histories of Asia (mainland and southeast), particularly Indonesia. It also includes miscellaneous works on European history and politics.
The collection also includes issues of reputable journals, the titles of which include Environmental History, Journal of Economic and Social History of the Orient, Environment, and History. The archive data sources culled from Indonesia's National Archive are organized by geographic region. These sources, covering the period from 1600 to 1950, are largely statistical, compiled from colonial government censuses relating to births, marriages, and deaths.
A handwritten card reference catalog by Dr. Boomgaard is also a notable inclusion in the collection, which will be valuable for researchers working on topics concerning demographic, agricultural, and labor history of the Dutch East Indies. The collection was donated by his widow, Dr. Raquel A.G. Reyes, a historian and newspaper columnist.
ABOUT DR. PETER BOOMGAARD
Dr. Boomgaard (1946 – 2017) was Professor of Economic and Environmental History of Southeast Asia, University of Amsterdam. He was also former Director and Senior Researcher at the Royal Netherlands Institute of Southeast Asian and Caribbean Studies/Koninklijk Instituut voor Taal-, Land- en Volkenkunde (KITLV) in Leiden. He specialized in Indonesia, with a particular focus on Java, authoring many books, edited volumes, and journal articles on demographic, social, and environmental history.
HOW TO ACCESS THE COLLECTION
The collection is open to faculty, students, and researchers, subject to current borrowing regulations in light of the community quarantine.
Please email aclib.upd@up.edu.ph for inquiries and procedures to access the collection. You may also get in touch with the Library Staff through the Asian Center Library Facebook Page.
WEBINAR GUIDELINES
     Registration
When registering for the webinar, use the same email address that you use for your Zoom account. Get a free Zoom account.
If your registration is successful, you will receive a confirmation email containing the link to join the webinar. Please do not share that link. Email reminders will be sent a day and an hour before the start of the webinar.
Attendance is first-come, first-served. The webinar can only accommodate 500. A live stream will be generated only if attendance exceeds 500. In this case, a link to the livestream will be posted on this page.
     Webinar Proper
If you have problems logging in, please try signing in first to your Zoom account before clicking the invitation/"join link."
Questions may be typed via the Q&A panel. You may choose to remain anonymous. The moderator and/or the main speaker will choose from the questions and answer them during the Open Forum. Please note that time constraints may not allow us to answer all queries.
The host(s) reserves the right to remove participants who send rude, inappropriate questions or messages.
ASIAN CENTER @ 65
This  activity is part of the Asian Center's 65th anniversary celebration, with the theme "Asian Center @ 65: Zealously Cultivating Ideas, Ceaselessly Inspiring Minds Across Asia."