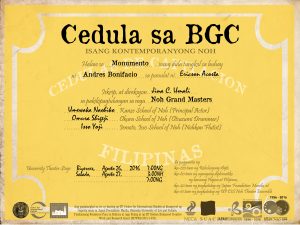 Meet the "B" of BGC – Bonifacio, the Father of the Philippine Revolution, as he takes center stage in UP Diliman's Center for International Studies' (UPCIS) intercultural collaborative work Cedula sa BGC: Isang Kontemporanyong Noh on August 26, 7 p.m., and August 27, 3 and 7 p.m. at the University Theater Stage of the University of the Philippines, Diliman, Quezon City.
This shinsaku (newly-created) Noh play, based on former political prisoner Ericson Acosta's work, Monumento, features the UPCIS Noh Theatre Ensemble as they bring to life Andres Bonifacio in a play within a Noh play set in modern-day BGC with masks, costumes, dances, chants, music and instruments from Japan's seven centuries old masked theatre art form. Japanese Theatre scholar Dr. Jina C. Umali writes and directs this shinsaku Noh staging in collaboration with Japanese Noh Grandmaster Umewaka Naohiko (Principal Actor), Omura Shigeji (hip drum), and Isso Yoji (Noh flute), the 14th Iemoto (head of school) of the Isso School of Noh Flute.
Cedula is more than a mere unfolding of Bonifacio's biography on stage. It explores the life and death and the many roles (i.e. thespian, nationalist, husband, and leader of the revolution) of Andres Bonifacio. The play is a distillation of the continuing struggle in the process of becoming Bonifacio and of the Philippines becoming a nation performed using the classical techniques of Noh characterized by sliding steps, controlled physical movements and dances that are abstracted and text that is sung.
Cedula is twin-billed by a Bunraku puppet dance interpretation of Andres Bonifacio's Pag-ibig sa Tinubuang Lupa set to music by Restie Umali, choreographed by Joanne Ko-de la Calzada and to be performed by Luz Morete, coloratura soprano, and the UPCIS Bunraku Ensemble.
This production is UPCIS' contribution to the celebration of the 120th year of the 1896 Philippine Revolution, the 60th year of diplomatic relations between Japan and the Philippines, the 20th Anniversary of Japan Foundation Manila, and the 10th Anniversary of the UPCIS Noh Ensemble. These performances are made possible through the support of Japan Foundation Manila, Shizuoka University of Art and Culture, National Commission for Culture and the Arts, UP Diliman's Office of Initiatives on Culture and the Arts and UP System Enhanced Creative Work and Research Grant.
For inquiries and ticket reservations, please contact UP Center for International Studies, G/F Benton Hall, UP Diliman c/o Patricia Andres, Extension Associate at 426-7573, 981-8500 loc. 2460 or through upd.cis@gmail.com