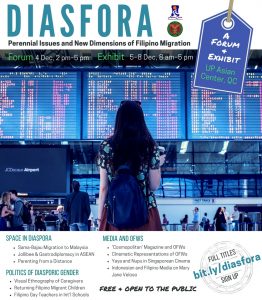 ​Take a closer look at the contemporary Filipino diaspora at a forum and exhibit, DiasFora: Perennial Issues and New Dimensions of Filipino Migration, from

December 4 to 8

, Philippines Hall, UP Asian Center, Quezon City.

The forum will be held on 4 December 2017, 2:00 pm to 5:00 pm, while the exhibit will be open from 5 December to 8 December, 8:00 am to 5:00 pm, both the Philippines Hall. Both the forum and the research exhibit are free and open to the public, but interested participants are requested to sign up.
ABOUT THE FORUM AND PROGRAM
On 4 December, graduate students of the Philippine Studies (PS) 216 class under Dean Santarita will present their research, through posters, on various facets of the Filipino diaspora.
The forum will start at 2:00 pm with a keynote address, after which the students will discuss their own research. Once all the studies have been presented, attendees are welcome to go around the exhibit hall, approach a specific poster, and engage the students with questions.
The presentations are divided into three themes/pane
​ls. Attached are the abstracts of each panel. ​
The Plight of Sama Dilaut: Badjao Migration from the Philippines to Malaysia and Indonesia by Karol Notob
Jollibee as "Pambasang Manok" and Fast Food Gastrodiplomacy in Singapore and Vietnam: An Exploratory Study by Bryan Ugaddan


Away yet Home: Challenges, Modalities and Consequences of Parenting from a Distance among Filipino Labor Migrants by Portia Soriano
POLITICS OF DIASPORIC GENDER
Mothering the World: Images and the Imaginary | Representations of the Plight of Filipino Caregivers by Estela Banasihan
Unraveling Homes: A Case Study on the Transnational Experiences of Filipino Expatriate Children by Katherine Lao
Diasporic Queer in the Classroom: The Resiliency of Filipino Gay Teachers in International Schools by Christopher Yap Wright
THE FILIPINO DIASPORA in MEDIA and CINEMA
DiasForHer: An Exploratory Study of How Local Digital Media Outlet Cosmo.ph Portrays the Modern Female OFW by Kathleen Mayo
Victim or Not? Filipino and Indonesian Media Representation of OFWs on Death Row: The Case of Mary Jane Veloso by Chenny Ramos
Ang mga Babaeng Humayo: Cinematic Representations of the Filipina Migrant Worker by Bianca Luna
From Yaya to Nupu: The Transformations of the Overseas Filipino film in National and Transnational Cinema by Abel Ubaldo
ABOUT THE EXHIBIT
The posters will be available for public viewing from 5 to 8 December, 8:00 am to 5:00 pm, Philippines Hall, UP Asian Center, QC. 
ABOUT PS 216 And DEAN SANTARITA
Philippine Studies 216: The Filipino Diaspora is one of the graduate courses on Philippine Studies offered by the UP Asian Center's MA programs in Philippine Studies. The course description of PS 216 is as follows: "the concept of "diaspora" as a product of Philippine migration experience, understood via multidisciplinary perspectives, models and approaches. The course examines "Philippine existence" beyond the borders of the modern nation-state, visits selected diasporic sites, and studies location-specific issues and challenges."
Dean Santarita specializes in Indian studies, migration studies, Philippine culture and society, maritime history and Southeast Asian political economy. Dr. Santarita, who obtained his Ph.D. in South Asian Studies from the National University of Singapore, handles several graduate courses at the UP Asian Center, including those on Regionalism and Community Building in Asia, Modern Asia, and Asia in Antiquity, among others. 
INQUIRIES And ATTENDANCE
If you are planning to come with/as a big group (a class or delegation), please inform us the number of participants at  asiancenter@up.edu.ph. It would also be best if their names could be registered online or if you could send us a list of their names.