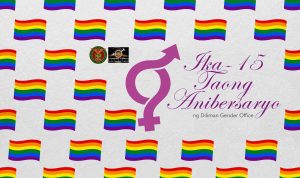 Agosto 31,2018
From the time of its inception as a committee under the UP Center for Women's Studies (now the Center for Women's and Gender Studies or CWGS) in 2000 through its establishment as an independent office under the Office of the Chancellor in 2003 up to the present, the UP Diliman Gender Office has continuously worked towards achieving the University's vision of a campus that embraces gender equality and justice – free of all forms of discrimination, violence, and abuse. With gender mainstreaming as its primary mandate, the DGO coordinates and collaborates with other colleges and units on programs, activities, and projects towards maintaining and increasing gender responsiveness within the Diliman campus. By way of the services it offers (training, crisis and legal counseling, research and publication, and extension work and public service), the DGO has amassed a wellspring of experience, learnings, and insights through the years.
The year 2018 marks the DGO's fifteenth anniversary. As such, we will hold an event to commemorate its triumphs, to welcome the breadth of its continuing work, and to accept the challenges of the changing times in upholding and integrating gender discourses as well as championing gender justice and human rights within the University.
For inquiries, you may contact Cindy Cruz-Cabrera at tel. no. 981-8500 loc. 2467, e-mail us at updgo@up.edu.ph, visit our  Facebook page at facebook.com/updgo.2001/ or visit our office at the 2nd flr., Benton Hall (Beside ng Lagmay Hall), M. Roxas St., UP Diliman, Quezon City.