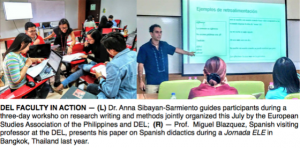 The Department of European Languages (DEL) of the College of Arts and Letters will host a one-day Jornada ELE on September 29 as an extension activity aimed at engaging other Filipino professors of Spanish and Spanish lecturers teaching in Philippine universities in discussions on the state of Spanish language instruction in the country.
Panel discussions will tackle issues related to national educational policies on foreign language education, Spanish linguistics, Hispanic literature, and Spanish didactics. Speakers on the different topics include Spanish language teaching experts from the University of Santo Tomas (UST), Instituto Cervantes de Manila, Western Mindanao State University, and University of Cebu.
Speakers from the DEL are Dr. Anna Maria Sibayan-Sarmiento, Dr. Daisy Lopez, Asst. Prof. Liza Escoto-Ramos, coordinator of the DEL's Spanish section, and Asst. Prof. Miguel Blazquez, a visiting professor at the DEL from the Spanish international cooperation agency, the Agencia Española de Cooperación y del Desarollo (AECID).
DEL faculty have been tapped as consultants for the DepEd's  Special Program for Foreign Languages, which prepares public high school teachers to teach Spanish, French, and German  as part of the senior high school program.  Senior faculty from the DEL have also served in the policy-making Technical Committee for foreign language instruction of the Commission on Higher Education.
The DEL offers the country's lone baccalaureate degree in European languages (with major specializations in Spanish, French, German, and Italian) and graduate programs in Spanish, French, and German. IMany of its graduates, many of whom finish with Latin honors according to results of the last few years, are absorbed in the BPO industry, the travel industry, and diplomatic service or work in different capacities in multilateral institutions like the International Red Cross, World Health Organization. and other U.N. agencies.
Faculty from the Ateneo de Manila University, UST, Poveda, and the University of Cebu have already confirmed their participation. Those interested in participating in the Jornada ELE may inquire at the DEL by calling the UP trunkline  981-8500 local 2121 or email Asst. Prof.  Escoto-Ramos at liza.escotoramos@gmail.com.