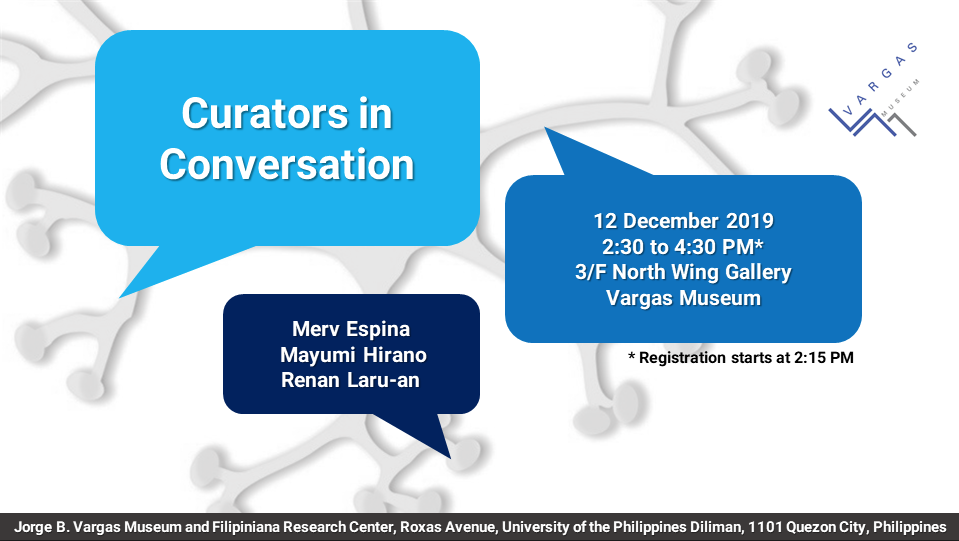 12 December 2019, Thursday | 2:30-4:30 pm
3/F North Wing Gallery
UP Vargas Museum
Curators in Conversation endeavors to make a modest contribution to the examination and understanding of curation as it is undertaken in a variety of settings and conditions in the Philippines. By bringing together people who are treading different paths of practice in the course of their involvement not only in exhibition-making but also in related pursuits, such as art production, research, administration and oversight, and public programming, it marks out entry points toward more trenchant investigations of curation. It is envisioned as a relatively informal gathering that seeks to be conducive to dialogical exchange between curators, students, and members of the general public.
Registration will start at 2:15 PM, and the event proper at 2:30 PM.
For more information, please contact the Vargas Museum at (+632) 8-981-8500 loc. 4024 (UP trunkline) or send an email to vargasmuseum@up.edu.ph. You may also check our website at http://vargasmuseum.upd.edu.ph, Facebook via https://fb.me/vargasmuseum.upd and Twitter via @UPVargasMuseum for updates.
---
Speakers Bio-notes
Merv Espina is an artist and researcher based in Quezon City. His practice involves moving images, sound, performance, and text, to play with the lapses of cultural institutions, mistakes of current historiography, and the problematics of archives. He helps to run Green Papaya Art Projects, an independent arts initiative, and is one of the organizers of WSK Festival of the Recently Possible, an experimental music and media art festival. He was part of the curatorial team of SUNSHOWER: Contemporary Art from Southeast Asia 1980s to Now (2017) at the Mori Art Museum and National Art Centre Tokyo, the largest survey of Southeast Asian artists to be exhibited in Japan. Merv was one of the curators of VIVA EXCON 2018, the longest running arts biennial in the Philippines, and of Motions of this Kind (2019) at the Brunei Gallery, School of Oriental and African Studies, University of London.
Mayumi Hirano is an independent curator, researcher, and translator based in Manila and Osaka, Japan. She is the co-founder of a multi-disciplinary space 98B COLLABoratory and the head of educational program 98B HQ. She is also co-founder of Load Na Dito, a mobile research and artistic project, initiated in 2016, with a vision to generate and archive information, experience, and knowledge of contemporary art and culture. After her curatorial practice at Yokohama Triennale (2005) and Koganecho Bazaar (2008-2013), her research and practice continue to focus on the relationship between art and society. She is currently focusing on developing educational programs that facilitate experimentations with various ideas by using creative mediums. Mayumi was an Asian Public Intellectuals Fellow (2013-2014), and worked as a researcher for Asia Art Archive, Hong Kong (2007-2008).
Renan Laru-an is a researcher, a curator, and the Public Engagement and Artistic Formation Coordinator of the Philippine Contemporary Art Network. In his research-oriented curatorial work, Renan studies "insufficient" and "subtracted" images and subjects at the juncture of development and integration projects through long-term inquiries, such as Herding Islands, Rats, and the Anthropocene (2015), Lightning Studies: Centre for the Translation of Constraints, Conflicts, and Contaminations (2016), The Artist and the Social Dreamer (2017), and Promising Arrivals, Violent Departures (2018). Between 2012 and 2015, he directed the self-organized DiscLab | Research and Criticism, a multidisciplinary platform and virtual organization for critical writing, theory, discursive activities and long-term research on Philippine contemporary art, visual and network culture. He is one of the curators of the Singapore Biennale 2019: Every Step in the Right Direction.