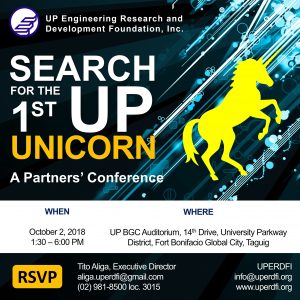 Date: OCTOBER 2, 2018 TUESDAY
Venue: UP Bonifacio Global City Campus Auditorium, 14th Drive, University Parkway District, Fort Bonifacio Global City, Taguig
Time: 1:30-6 p.m.
Dubbed as the Search for the 1st UP Unicorn, the event serves as the launch of UPERDFI's Technopreneurship Program, with the goal of helping develop a robust ecosystem to convert UP Diliman's intellectual capital into collective prosperity. This gathering aims to arouse the interest of members in supporting the new initiative of UPERDFI, which is to support faculty and students move their research projects up to commercial levels.
We are inviting several ideators to present their breakthrough projects, followed by panel discussions on how government, industry and academe can best work together to bring these projects to commercial levels, which will ultimately benefit society.
The event is open to UPERDFI Members, UP College of Engineering Donors and Benefactors, Faculty and Engineering Seniors.
For inquiries, contact Ms. Norika Ishikawa, UPERDFI Executive Assistant; Tel 981-8500 Ext 3015. Or visit www.uperdfi.org