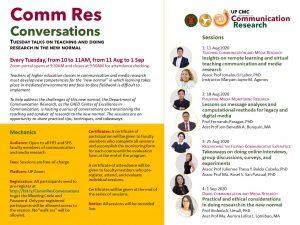 Teachers of higher education classes in communication and media research must develop new competencies for the "new normal" in which learning takes place in mediated environments and face-to-face fieldwork is difficult to implement.
To help address the challenges of this new normal, the Department of Communication Research, as the CHED Center of Excellence in Communication, is hosting a series of conversations on transitioning the teaching and conduct of research to the new normal. The sessions are an opportunity to share practical tips, techniques, and takeaways.
The month-long series will take place every Tuesday, from 10AM to 11AM, from August 11 to September 1, 2020. It is free-of-charge and caters mainly to HEI and SHS teachers of communication and media research.
For registration details and other information, please visit https://www.facebook.com/UPCommunicationResearch.
The four weekly sessions are as follows:
Session 1 on 11 Aug 2020: "Teaching Communication and Media Research: Insights on remote learning and virtual teaching communication and media research," with Assoc Prof Jonalou SJ Labor, PhD and Instructor Maryam Jayne M. Agonos
Session 2 on 18 Aug 2020: "Philippine Media Monitoring Research: Lessons on message analyses and computational methods for legacy and digital media," with Prof Fernando Paragas, PhD and Asst Prof Jon Benedik A. Bunquin, MA
Session 3 on 25 Aug 2020: "Researching the Filipino Communicative Experience: Takeaways on doing online interviews, group discussions, surveys, and experiments," with Assoc Prof Julienne Thesa Y. Baldo-Cubelo, PhD and Assoc Prof Ma. Rosel S. San Pascual, PhD
Session 4 on 1 Sep 2020: Doing Communication and Media Research: Practical and ethical considerations in doing research in the new normal," with Prof Violeda A. Umali, PhD and Asst Prof Ma. Aurora Lolita L. Lomibao, MA