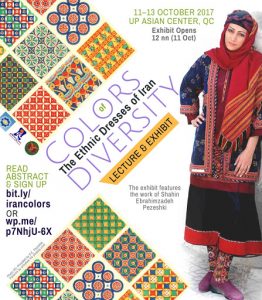 The UP Asian Center will host a free lecture and exhibit on "Colors of Diversity: The Ethnic Dresses of Iran" from 11 to 13 October 2017 at the UP Asian Center, Quezon City. The exhibit will open at 12 noon and will be followed by the lecture. The event is free and open to the public, but participants are encouraged to sign up.
ABOUT THE EXHIBIT
Although the majority of Iranians are Persian, Iran has a diverse population of ethnic groups, each with their own language, tradition, and clothes—all of which shape the country's rich cultural tapestry. Women's clothes are strong identifiers of regional and ethnic groups. People can differentiate which groups they belong to based on the colorful fabrics, embroidered patterns, decorative jewelry, and style of the traditional dresses of Iran. The exhibit will showcase the collection of Ms. Shahin Ebrahimzadeh Pezeshki, famous artist and expert in traditional Iranian dressmaking. Her collection features traditional dresses from different cities of Iran.
ABOUT THE LECTURE
In her lecture, Ms. Pezeshki will talk about her work—the art and culture behind it—and provide some overview on ethnic dresses vis-a-vis Iranian society.
ABOUT THE ARTIST AND LECTURER
Ms. Shahin Ebrahimzadeh Pezeshki is an artist and researcher in the Iranian Art of Traditional sewing. She is the author of "Seven Standards in Teaching Needle Sewing and Classic Decoration of Today's Modern Dresses," and is an expert on Sormeh sewing, needle sewing, Iranian silk sewing, and the modern methods of sewing with native designs. Her work has travelled the world over, exhibited in Indonesia, Kazakhstan, Kyrgyzstan, Turkmenistan, Pakistan, Bangladesh, Turkey, Kenya, Spain, England, and Romania.
ORGANIZERS
This free exhibit is organized by the UP Asian Center; The Cultural Center, Islamic Republic of Iran; and the Philippine-Iran Cultural and Scientific Society (PICCS).
INQUIRIES
Inquiries may be sent to asiancenter@up.edu.ph.