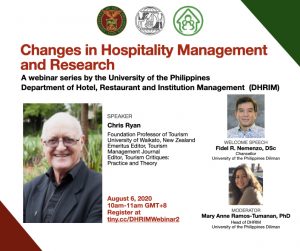 Amidst the pandemic defined by unfamiliarity and uncertainty, is past performance predictive of future results? What remains constant in search for experience and identity?
Join us as Professor Chris Ryan from the University of Waikato, New Zealand shares his insights on Big Data and resilience in the hospitality industry. The event is happening on 6 August 2020 from 10-11 AM.
Chris has over 220 refereed journal publications and is Emeritus Editor of Tourism Management Journal. He is the current editor of Tourism Critiques: Practice and Theory. He was noted as being in the top 1% of global researchers according to a report published in Plos One.
Secure your spot through tiny.cc/DHRIMWebinar2