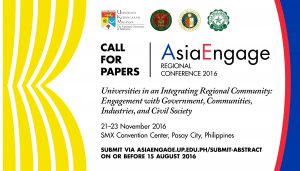 The University of the Philippines in collaboration with the Universiti Kebangsaan Malaysia, Ateneo de Manila University, and De La Salle University will host the 3rd AsiaEngage Regional Conference 2016. The conference theme for this year is "Universities in an Integrating Regional Community: Engagement with Government, Communities, Industries, and Civil Society." It will be held on 21-23 November 2016 at the SMX Convention Center, Pasay City, Philippines.
The conference aims to foster an exposition of experiences and learnings in four identified sub-themes, from which best, innovative and significantly-impactful practices in the furthering community engagement by higher education can be culled, given due recognition, and replicated as social templates for solving problems that impact on ASEAN and Asian communities. The already-begun project of developing an essential body of scholarly work for recognizing and mainstreaming the field of community engagement in institutions of higher education in the integrating ASEAN Community would likewise be enhanced.
The Sub-Themes
The conference aims to explore the most fruitful dynamics between higher education institutions and particular stakeholder-collaborators in the engagement enterprise, whether the latter be co-collaborators in the endeavor or the very targets of the engagement.  Such other stakeholders include public sector actors (national or local government agencies) or those in civil society (including non-government organizations and foundations), the non-civil society private sector (principally industries and businesses), and the communities themselves. It may be the case that there is more than one other stakeholder partnering with a university in any engagement, though it may equally be that one of them plays a more strategic role than any of the others. And so it would remain instructive to isolate and explore the relationship and dealings with such dominant partner.
Without being exhaustive, aspects of each of these sub-themes are as follows:
University-Civil Society synergies: The mutual contributions of higher education and civil society organizations (CSOs, including non-government organizations and foundations) in designing, implementing, and monitoring/evaluating community- and institution-based interventions for community and social development.
University-Government collaborations:  The role of higher education research and knowledge-generation particularly with regard to the formulation of legal, administrative and regulatory policies of governments (local and national).  How university-conducted studies of government systems and performance may expeditiously lead to the institutionalization of public policies and prescriptions for the benefit of societies and their component communities, especially of the vulnerable and the marginalized.
University-Industry partnerships:  The role of higher education research and knowledge-generation in complimenting not only research and development capacities but also soft skills development of industries, thus enhancing sustainable management and leadership in businesses and enterprises.  How universities tap the strengths and advantages of industrial partners for achieving community development targets.
University-Community involvements:  The role of higher education in proceeding with research, teaching and learning, and service and volunteerism efforts with communities from a bottom-up perspective and approach.  How universities design and adopt capacity-building modules and interventions appropriate to the needs of marginalized communities.
Paper proposals along the four sub-themes are welcome for presentation in the conference.  Abstracts should be submitted via the conference website at http://asiaengage.up.edu.ph/ on or before 15 August 2016.
For inquiries, please email asiaengage@up.edu.ph, send an SMS to +63 917 571 8886, or call +632 981 8500 loc. 4256.