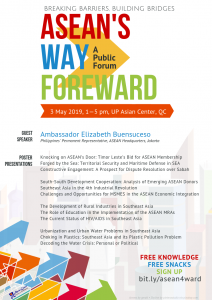 The UP Asian Center will be a holding a public forum, "Breaking Barriers, Building Bridges: ASEAN's Way Forward" on 3 May 2019, 1 – 5 pm, UP Asian Center, Quezon City. The event is free and open to the public. Seating is first-come, first-served. Walk-ins are welcome, but participants are encouraged to sign up.
SPECIAL LECTURE
A special lecture will be delivered by Ambassador Elizabeth P. Buensuceso, Permanent Representative of the Philippines to the ASEAN and Chair at the ASEAN Institute for Peace and Reconciliation and Its Role in Preventing Crises (AIPR) Governing Council. She has been with the Department of Foreign Affairs for over 38 years and has served as the ambassador to the Lao PDR and to Norway, with concurrent accreditation to Denmark and Iceland. She was also posted in China, Belgium, Singapore, and Hong Kong. In the Home Office, she was Assistant Secretary for European Affairs and Director or Assistant Director in the office of ASEAN Affairs, Economic Diplomacy Unit, Undersecretary for Policy, and Cultural Affairs.
POSTER PRESENTATIONS
After Ambassador Buensuceso's lecture, students taking Asian Studies 256 will put up 12 poster presentations whose topics cover the four pillars of the ASEAN.
Political-Security Issues in ASEAN/Southeast Asia

• Knocking on ASEAN's Door: Timor Leste's Bid for ASEAN Membership by Cedric Barcena
• Forged by the Sea: Territorial Security and Maritime Defense in Southeast Asia by Nick Estonilo
• Constructive Engagement: A prospect for Dispute Resolution over the Sabah Territory by Monica Abrille
Economic Issues in Southeast Asia/ASEAN

• South-South Development Cooperation: A Comparative Analysis of the ASEAN Emerging Donors by Reicele Alvarez
• Southeast Asia in the 4th Industrial Revolution by Kristine Calleja
• Challenges and Opportunities for MSMES in the ASEAN Economic Integration by Dane Palencia
Sociocultural Issues in Southeast Asia/ASEAN

• The Development of Rural Industries in Southeast Asia by Virna Guaño
• The Role of Education in the Implementation of the ASEAN MRAs by Miriam Oreta
• The Current Status of HIV/AIDS in Southeast Asia by Michael Palaganas
Environmental Issues in Southeast Asia/ASEAN

• Urbanization and Urban Water Problems in Southeast Asia by Grace Amargo
• Choking in Plastics: Southeast Asia and its Plastic Pollution Problem by Alexa Lasch
• Decoding the Water Crisis: Personal or Political by Cris Roco-Escape
FORMAT
The poster presentations will follow an exhibit format. All posters will be put up on the walls or stands, and the audience can read them at their leisure. The students will stand beside their posters to answer any questions.
Free snacks and drinks will be served.
ABOUT THE ORGANIZERS
Asian Studies (AS) 256—International Relations in Southeast Asia and ASEAN—is a graduate-level course offered at the UP Asian Center. It examines the historical, ideological, cultural, economic, and political foundations of international relations in Southeast Asia. It also explores contemporary issues in the external linkages of Southeast Asia and ASEAN and their impact on the Philippines.  The forum is organized by the AS 256 class under Dean Joefe B. Santarita, PhD. Dr. Santarita specializes in Indian studies, migration studies, Philippine culture and society, maritime history, and Southeast Asian political economy. He obtained his PhD in South Asian Studies from the National University of Singapore (NUS) in 2012.