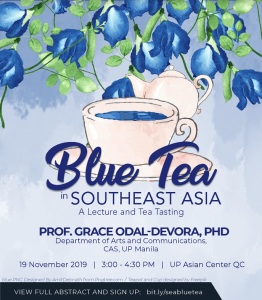 The UP Asian Center will be organizing a lecture and tea tasting, 
Blue Tea in Southeast Asia
, on 19 November 2019, 3:00 pm–4:30 pm, at the Asian Center, University of the Philippines Diliman. The event is free and open to the public, but seating is first-come, first-served. Participants are encouraged to sign up.
About the Lecture
Folkloric and scientific studies on the 'Clitoria Ternatea' ("pukingan") show the need for more research on its historical, political, as well as its artistic and environmental functions and significance on planetary health. In this lecture, Dr. Odal-Devoria will discuss the plant ternatea and its other popular names; its various names in the different regions of the Philippines; its scientific nomenclature; and products and goods based on the plant. She will also discuss its health benefits—folkloric and scientific—and present a case study of a blue tea plantation in San Pablo, Laguna, Philippines as an example of how to conduct an indigenous method of inquiry. The lecture is part of her ongoing research on the plant, which among other things examines whether the plant is endemic to Southeast Asia.
About the Speaker
Dr. Grace Odal-Devora is Professor at the Department of Arts and Communication of the College of Arts and Sciences, University of the Philippines Manila, where she started teaching in 1979. Dr. Grace Odal-Devora graduated from UP Diliman with a BA in English, with Concentration on Comparative Literature. She finished he MA degree in Asian Studies, focusing on Southeast Asia, with Indonesia as Core Country. In 2012, she graduated from the PhD Philippine Studies Program of the UP Diliman's Tri-College Program. She was also a recipient of the Outstanding Artist Award of UP Manila in 1999 and again in 2009, as well as Outstanding Faculty in Research Award of UP Manila, for Creative Research in 2002.
Happy 64th Birthday, Asian Center!
This event is part of the month-long celebration of the 64th anniversary of the Asian Center, University of the Philippines Diliman. Other activities include: Asia 4.0: The 2019 Graduate Students' Conference @ UP Asian Center, which will be held on 23 November 2019, 8 am–4 pm. The conference features 16 papers across four panels: Migration and Globalization; Politics, Culture, and Labor; Urbanization and Development; Health, Ageing, and Education. Please click on the link to view the abstracts.
For inquiries, please email asiancenter@up.edu.ph. View vicinity map.