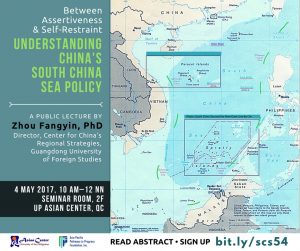 The UP Asian Center will be hosting a public lecture, Between Assertiveness and Self-Restraint: Understanding China's South China Sea Policy, on Thursday, 4 May 2017, 10:00 am to 12:00 noon, Seminar Room, UP Asian Center, Quezon City. The lecture is free and open to the public, but seating is first-come, first-served and participants are encouraged to sign up.
ABOUT THE SPEAKER
Zhou Fangyin is a professor and director of the Center for China's Regional Strategies, Guangdong Institute for International Strategies, Guangdong University of Foreign Studies. He is also the chief editor of Journal of Strategy and Decision-Making. He obtained his Ph.D from Tsinghua University in 2006, and majored in International Relations. He was head of the department of China's regional strategy of the National Institute of International Strategy (NIIS), Chinese Academy of Social Sciences (CASS) from 2011 to 2014. His research interests focused on Chinese grand strategy, China's regional strategies, and East Asian regional cooperation.
He is the author of several books and several dozen articles, such as Between Assertiveness and Self-Restraint: Understanding China's South China Sea Policy (International Affairs July 2016); The U.S. Alliance System in Asia: A Chinese Perspective (Asian Politics & Policy, 2016); Equilibrium Analysis of the Tributary System (The Chinese Journal of International Politics, 2011); East Asian Order: Ideas, Institution and Strategy (Editor, Social Sciences Academic Press, 2012); and Asia-Pacific Strategies of Major Powers (Editor, Social Sciences Academic Press, 2013).
ABOUT THE LECTURE
This lecture draws on Professor Zhou Fangyin's expertise and insights to present a Chinese perspective on China's motivations and actions in the South China Sea. His lecture is thus "a rare opportunity to help broaden and deepen our understanding of this complex issue," says Professor Aileen Baviera of the UP Asian Center, who will serve as moderator and preside over the open forum.
CO-ORGANIZERS
This lecture is co-organized by the Asian Center and the Asia Pacific Pathways to Progress Foundation, Inc.
VENUE And VICINITY MAP
Vehicles entering the UP Asian Center (GT-Toyota Asian Cultural Center) grounds can only do so via the gate on Magsaysay Avenue that is near a UP guardhouse, a few meters away from Katipunan Avenue, and across Maynilad. A small gate for pedestrians on Guerrero St. lies across the College of Law parking lot and a few meters away from a waiting shed, where the Ikot jeepney, and jeepneys from Philcoa and SM North pass by. VIEW VICINITY MAP and GOOGLE STREET VIEW
INQUIRIES And ATTENDANCE
If you are planning to come with/as a big group (a class or delegation), please inform us the number of participants at  asiancenter@up.edu.ph. It would also be best if their names could be registered online or if you could send us a list of their names.