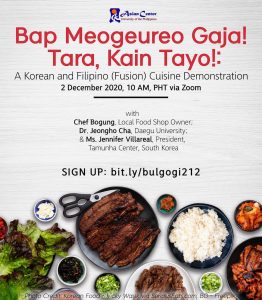 The UP Asian Center will be holding the "Bap Meogeureo Gaja! Tara, Kain Tayo! : A Korean and Filipino (Fusion) Cuisine Demonstration" on 2 December 2020, 10 am – 12 nn, Philippine time, via Zoom. The event is free and open to the public, but interested participants are required to register using an authenticated Zoom account.
ABOUT THE EVENT
This webinar shall introduce two famous Korean foods, bulgogi and kimchi chigue.  Bulgogi is Korean equivalent of grilled beef or barbecue. Kimchi-jjigae or kimchi stew is a jjigae, or stew-like Korean dish, made with kimchi and other ingredients, such as pork or seafood, scallions, onions, and diced tofu. It is one of the most common stews in Korean cuisine. It shall give a glimpse of how the authentic dishes and the fusion are made by two chefs, a Korean and a Filipina. Some Korean words about the ingredients will also be introduced.
ABOUT THE SPEAKER
Chef Bogung
Owner of the local food market, "Dalkomhan Bapsang"
Dr. Jeongho Cha
Professor of Science Education, Daegu University
Jennifer Oliveros Villareal
President of the Filipino Community in Gimcheon, under the Tamunhwa

Center
WEBINAR GUIDELINES
     Registration
When registering for the webinar, use the same email address that you use for your Zoom account.
If your registration is successful, you will receive a confirmation email containing the link to join the webinar. Please do not share that link. Email reminders will be sent a day and an hour before the start of the webinar.
Attendance is first-come, first-served. The webinar can only accommodate 500. A live stream will be generated only if attendance exceeds 500. In this case, a link to the livestream will be posted on this page.
     Webinar Proper
If you have problems logging in, please try signing in first to your Zoom account before clicking the invitation/"join link."
Questions may be typed via the Q&A panel. You may choose to remain anonymous. The moderator and/or the main speaker will choose from the questions and answer them during the Open Forum. Please note that time constraints may not allow us to answer all queries.
The host(s) reserves the right to remove participants who send rude, inappropriate questions or messages.
ASIAN CENTER @ 65
This  activity is part of the Asian Center's 65th anniversary celebration, with the theme "Asian Center @ 65: Zealously Cultivating Ideas, Ceaselessly Inspiring Minds Across Asia." 
For inquiries, email asiancenter@up.edu.ph.
Recent Developments in Inter-Korea Relations | A Webinar
You may also be interested to attend the webinar, "Recent Developments in Inter-Korea Relations," which will be held on 2 December 2020, 2 pm, Philippine time, via Zoom. The event is free and open to the public.
This webinar aims to explore recent issues and events that transpired between North and South Korea such as the NoKor's Nuclear Weapons Program, the summit meetings, and the Trump-Kim meetings. It then seeks to analyze the impact and effects of these events to the domestic political conditions in the two countries. View abstract, speaker profile, and sign up