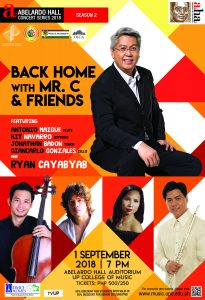 When the Abelardo Hall Auditorium (AHA) at the UP College of Music was completed in 1963, it was perhaps the best concert hall at that time in the city. The building, a fine example of 50s modern architecture, can sit 506 in the audience and 45 musicians in the orchestra pit. In its 55 years, AHA has become the premier training ground for countless Filipino musicians, many of whom went on to reap honors for the country. Today, the auditorium continues to provide a convenient venue for recitals, concerts, and theater and dance presentations performed by students, faculty, alumni of the college, as well as visiting artists of national and international stature. It has also provided a perfect setting for numerous symposia, workshops, masterclasses, and seminars handled by acknowledged experts in the field, the field of music and dance.
The Abelardo Hall Concert Series, now on its 2 nd season, was established with the goal of making the AHA a center of culture not just for the university, but for the larger community. The season comprises of monthly concerts that showcase the diversity of talents that are or have been part of the UP College of Music. The line up is a mix of genres and styles that is truly the mark of UP. For Season 2's Opening Salvo, the UP College of Music and the UP College of Music Alumni Association proudly present: "Back Home with Mr. C and Friends" Featuring Tony Maigue (flute), Kit Viguilla Navarro (soprano), Jonathan Badon (tenor), Giancarlo Gonzales (cello) and Ryan Cayabyab (music director and host) on September 1, 2018, 7PM.
Admission tickets are priced at P500 and P250 with special discounts for students (50%), the elderly (20%), and people with disabilities (20%). For ticket reservations, please contact Faye Manuzon at 926 0026 or 981 8500 loc. 2629 or via email at abelardohall.music@gmail.com.