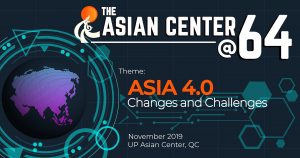 The UP Asian Center will organize lectures, conferences, film showings, food festival, roundtable, book launch, and cultural activities to celebrate its 64th anniversary, with the theme, Asia 4.0: Changes and Challenges. The events are free and open to the public. Details are still being finalized for these events, but you can sign up below to receive updates as they come.
11 NOVEMBER
• Southeast Asia and Industry 4.0: A Roundtable
H.E. Gerard Ho Wei Hong, Ambassador of the Republic of Singapore to the Philippines
9:00 am–11:00 am, ASEAN Hall, UP Asian Center, QC
• Opening: Photo Exhibit on Asia 4.0: Changes and Challenges (Details to follow)
• Forum on Philippine Development (Details to follow)
---
12 NOVEMBER
• Power and Knowledge in Southeast Asia: State and Scholars in Indonesia and the Philippines: A Book Launch-Roundtable
          Rommel Curaming, PhD, Associate Professor, University of Brunei Darussalam
1:00 pm–3:00 pm, Japan Hall, UP Asian Center, QC
• Free Screenings of Asian Films (Details to follow)
---
13 NOVEMBER
• Ikebana as Sustainable Art: A Lecture-Demo on Japanese Traditional Flower Arrangement
Asako Sonoda
1:00 pm–2:30 pm, ASEAN Hall, UP Asian Center, QC
• South Sulawesi, Indonesia as a Field of Historical Study: A Lecture (Full details to follow)
Dr. Ian Caldwell (University of Leeds, UK, ret.)
5:00 pm–7:00 pm, Japan Hall, UP Asian Center, QC
---
14–15 November
---
19 November
• Flavors of Asia: A Mini Food Festival (Details to follow)
---
23 November
• Asia 4.0: The 2019 Graduate Students' Conference (Details to follow)
8 am–4 pm, GT-Toyota Asian Center Auditorium, QC
• Keynote Address: Trade and Development with Human Capital: A Century's Narrative in Korea
Hak Kil Pyo, PhD, Professor Emeritus, Faculty of Economics, Seoul National University
---
25–27 November
• Alas ng Bayan: Women, Heroism, and Memory: An Exhibit (Details to follow)
---
27–29 November
• Sitano Langon: Mga Kwento ng Marawi: A Lecture-Exhibit (Details to follow)
---
Theme
What does the "Fourth Industrial Revolution" mean for societies in Asia? Rapid globalization alongside unprecedented integration of the digital, physical, and biological spheres—hallmarks of the so-called "Fourth Industrial Revolution" (Industry 4.0)—are projected to cause massive shifts in economies and societies across the world (Schwab, 2016). While "Industry 4.0" promises greater productivity and connectivities, it also threatens to disrupt conventional production patterns through automation and digitization. What do these technological disruptions mean for Asia's more than four billion inhabitants many of whom still rely on traditional modes of production? What roles do state and non-state actors play in "Industry 4.0"? What risks and opportunities become available as big data, blockchain technology, artificial intelligence, smartphones, and robotics are increasingly used and integrated in various industries including finance, health, and military among others? How are social identities (re)configured as countries and communities converge in various and novel ways, including and most notably, through the internet and the virtual world? The Asian Center of the University of the Philippines focuses on these issues as it celebrates its 64th anniversary. It has organized events that not only deal on the changes and challenges brought by "Industry 4.0", but also provide Asian and Filipino perspectives to these issues.
Inquiries