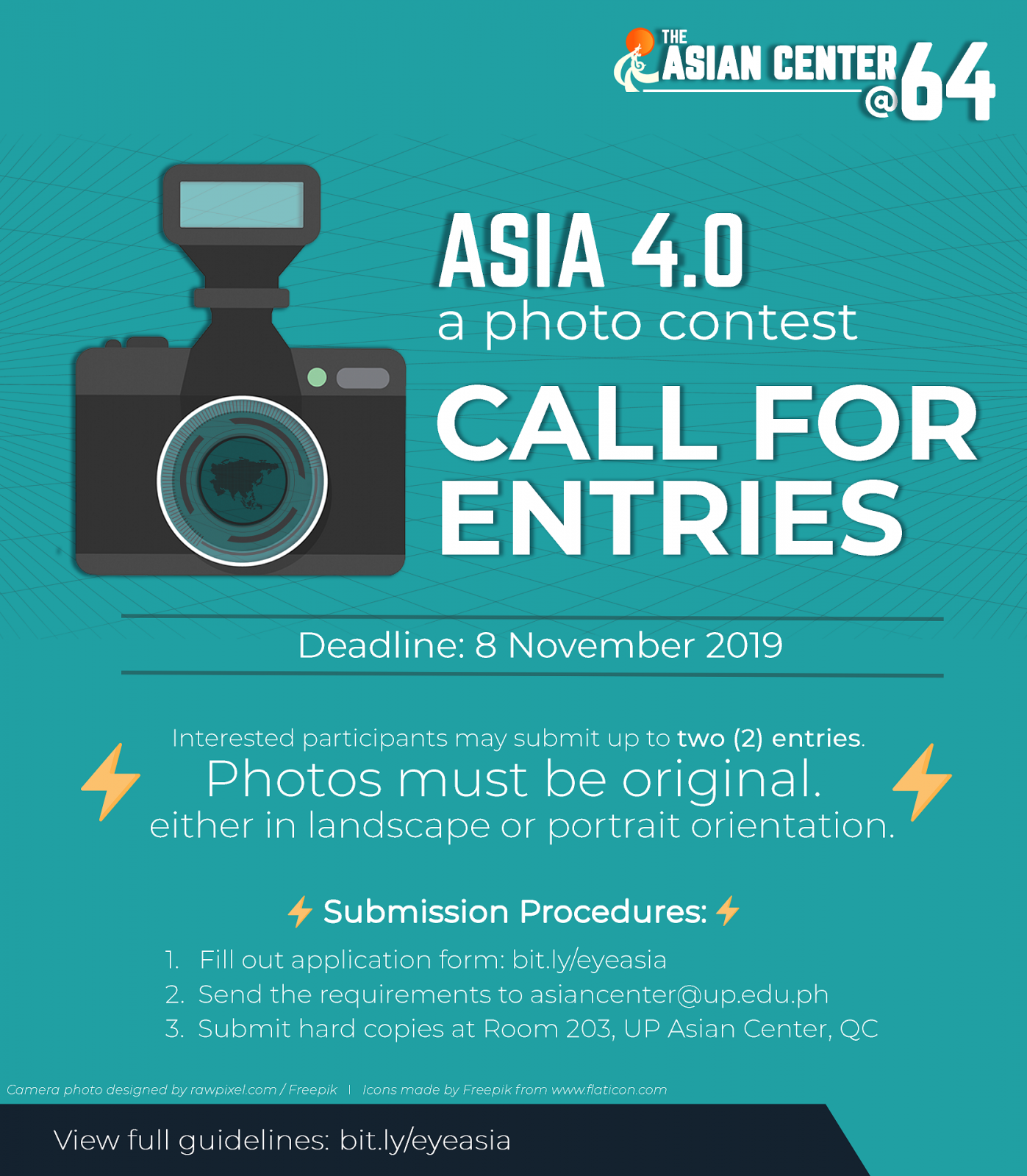 The UP Asian Center is accepting entries for the "Asia 4.0: A Photo Contest" from 15 October to 8 November 2019. The competition is open to anyone. A maximum of two original photo submissions per participant will be accepted. All entries that are judged to hew to the theme will be featured in a photo exhibit at the UP Asian Center, QC on 11 November 2019 (times to be announced). Winners will be announced on 23 November 2019.
THEME
The conditions of many Asians—on the threshold of a disruptive era of momentous transformations—present challenges for everyone. Changes in economic production, political configurations, cultural exchanges, and social interactions are challenging perceptions of reality and notions and manner of adaptation to rival forces of tradition and modernity. Unsolved and lingering tensions and conflicts in industrial, ethnic, social, gender relations, among others, figure in the environment and burden most of the affected communities.
This contest seeks images that visualize how Asians conduct their lives amidst these unsettling circumstances.
PARTICIPATION FEE
 Non-refundable participation fee of one hundred pesos cash (Php 100) must be paid upon submission of entries.
ENTRY GUIDELINES
1) Participants may submit up to two (2) entries.
2) Photo entries must be original.
3) Submissions may either be:
• Landscape or portrait orientation
• Color or black-and-white
• Produced using digital or manual (film) camera
4) Photo editing is allowed. However, it must not be used to to produce composite image from a number of photos.
SUBMISSION PROCEDURES
1) Fill out this online participation form. The photographer must give a short unique alias for anonymity and must certify that he/she took the photo(s) submitted.
2) Send the following as email attachments to asiancenter@up.edu.ph with the subject line: AC Photo Contest
• PNG file of the photo
• Word document containing photo title, caption (up to 80 words), photographer name and alias
3) Enclose the following in an envelope and submit at the Office of the College Secretary, Room 203, UP Asian Center, QC (c/o Abel or Bobby). View vicinity map.
• Borderless printout of the photo in 8R (8 x 10 inches) and with thickness of at least 120 gsm
• Letter-sized document containing the title of the photo, caption (maximum of 80 words), photographer name, and alias

ANNOUNCEMENT OF WINNERS
Submissions will be assessed via double-blind judging process. Winning photos will be announced on 23 November 2019. Winners will receive certificates and prizes.
INQUIRY
For queries, please email asiancenter@up.edu.ph.