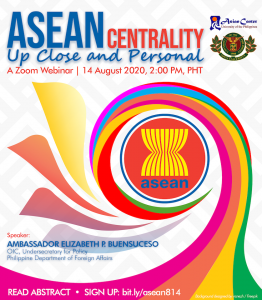 The UP Asian Center and the UP Open University ASEAN Studies Graduate Program will be holding a Zoom webinar, "ASEAN Centrality: Up Close and Personal," on 14 August 2020, 2 pm (GMT+8, Philippine Standard Time). Featuring Ambassador Elizabeth Buensuceso, the webinar is free and open to the public, but online registration and a Zoom account are required. In the registration form, please supply the email address you use to sign in to Zoom. Please see full guidelines below.
Discussion Points
Many academics and researchers have advanced definitions of ASEAN centrality. An Insider's definition and perspectives would add a more realistic dimension to this scholarship and provide a pragmatic and useful way of understanding ASEAN: what it is and not what others think it ought to be, as well as what it can and cannot do.
Through autoethnography, Ambassador Elizabeth Buensuceso will:
Recount her lived experiences as a Filipino diplomat participating in a community engaged in intra-ASEAN and inter-ASEAN relations.
Formulate a definition of ASEAN centrality as manifested in the ability of the ASEAN Chair, particularly the Philippines, to take on a leadership role and help shape the regional architecture by delivering important accomplishments to benefit the region.
Define ASEAN centrality as a principle of diplomacy, with ASEAN playing a dominant role as practiced by ASEAN diplomats, discussing and advancing ASEAN's agenda, and following ASEAN-approved formats, procedures and processes, all enunciated in a tone or language characteristic of the friendly, non-confrontational 'family style' of the ASEAN Way.
Define ASEAN centrality as an aspiration to raise the level of awareness about ASEAN.
Speaker Profile
Ambassador Elizabeth Buensuceso is the Officer-in-Charge, Undersecretary for Policy, Department of Foreign Affairs, Republic of the Philippines. She is also the Philippines' ASEAN SOM (Senior Officials Meeting) Leader and the Philippine Representative to the ASEAN Intergovernmental Commission on Human Rights (AICHR). She was, until recently, the Ambassador/Permanent Representative of the Philippines to ASEAN for six years, and was also the former Ambassador to Laos and Norway, with concurrent accreditation to Denmark and Iceland. She has been with the Philippine foreign service for more than 39 years.
Ambassador Buensuceso majored in English and graduated magna cum laude. She is now a candidate for graduation in October 2020 for the degree of Master in ASEAN Studies at the UP Open University. In 2017, she was awarded the Presidential Grand Cross, Gawad Kamanong, rank of Commander.
Reactors
•   H.E. Ma. Hellen De La Vega
Philippine Ambassador to Australia
•   Mr. Bala Kumar Palaniappan
Director of External Relations, ASEAN Political-Security Community Department, ASEAN Secretariat
•   Joefe B. Santarita, PhD
Dean, UP Asian Center
Registration Guidelines
In the registration form, the email you provide should be the same as the one you use to sign in to Zoom. Sign up for a free Zoom account here. If your registration is successful, you will receive an email with the link to the webinar.
Please do not share your registration link. It is unique.
Registration is first-come, first-served. The webinar can accommodate 500. Those who cannot register via Zoom may watch it live on YouTube. In this case, the link thereto will be posted on this page (also bit.ly/asean814) by around 2 pm.
For the Q&A, participants may post their questions anonymously. These will only be visible to the host and the panelists. The moderator and/or the main speaker will choose questions and read them out during the Open Forum. No answers will be typed.
The "Raise hand" feature, as well as Chat, will be disabled during the webinar. For other concerns, please email asiancenter@up.edu.ph or send a message to our Facebook page, "Asian Center, UP Diliman."
The host(s) reserves the right to remove participants who send rude, inappropriate questions or messages.
Automatic reminders via Zoom regarding will be sent to your email one day before and one hour before the start of the webinar.
Organizers
To celebrate the 53rd founding anniversary of the Association of Southeast Asian Nations, this webinar is organized by the UP Asian Center in partnership with the ASEAN Studies Graduate Program of the Faculty of Management and Development Studies, UP Open University.
The webinar is part of the Asian Center's "Current Affairs Lecture Series," which aims to tackle challenges arising from issues concerning progress, growth and development in 21st-century Asia, and of the UPOU ASEAN Studies Graduate Program's Lecture Series.
Inquiries
For queries, please email asiancenter@up.edu.ph.