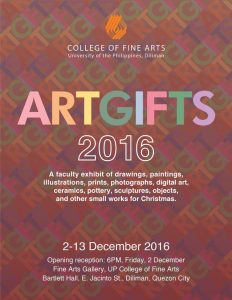 The University of the Philippines College of Fine Arts (UPCFA) continues to share art with the UP community this Christmas season through ArtGifts 2016, an exhibition-sale of works by UPCFA faculty members.
This year's ArtGifts 2016 features drawings, illustrations, paintings, prints, photographs, digital art, sculpture, ceramics, pottery, and other small works contributed by faculty members from the Departments of Studio Art, Visual Communication and Theory.
Opening reception for ArtGifts 2016 is on December 2, Friday, 6 p.m. at the UP Fine Arts Gallery, located at Bartlett Hall, Emilio Jacinto St., University of the Philippines Diliman 1101, Quezon City.
The exhibition-sale will be open to the public up to December 13 (Tuesday). For inquiries, please contact Gilda Sychingiok at 920.9910 (telefax) or 0943.4546204. Visit www.cfa.upd.edu.ph or email upcfinearts@gmail.com for more updates.