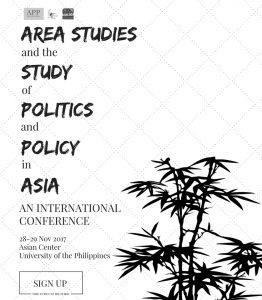 The international conference, Area Studies and the Study of Politics and Policy in Asia, will feature two presentations from UP Asian Center faculty and staff on the second day of the conference, 29 November 2017, 1:00 pm to 2:15 pm, Seminar Room, UP Asian Center, Quezon City. The conference is free and open to the public.
ABOUT THE PRESENTATIONS
Rolando Talampas, Associate Professor @ UP Asian Center, and Janus Isaac Nolasco, Managing Editor of Asian Studies (published by the UP Asian Center) are part of a panel, "Area Studies: Past Forward," which is one of six (6) panels that will be featured in the one-day-and-a-half conference from 28 November 2017 (1:00 p.m. to 5:30 p.m.) to 29 November 2017 (8:00 am to 5:00 pm).
Below are the abstracts of Associate Professor Talampas's and Mr. Nolasco's presentations.
Securitizing Area Studies: Perspectives, Narratives and Motives by Rolando Talampas
Old school area studies assumed and drew largely from "stable, unchanging" locales in the global south treading the road of 'development/modernity.' Said works say external challenges and threats came largely from breakdown or transformation of  traditional institutions that galvanized societies and communities through time. Social scientists have generally pioneered in unearthing narratives of peoples in underdeveloped, pre-­modern, localized geographic scope. Therewith or thereafter (if not together with), political scientists have tried to generalize such findings on conflicts, crises and clashes and created theories and discourses for possible application elsewhere, that is, other remote corners of the planet.

Half a century or so late, in the age of so-­called globalization and terror, area studies dealing with distinct socio-­cultural (even socio economic) narratives have taken a back step in favor of allocating time, energy and money for understanding why and how some areas have contributed to states and peoples that have grown unsafe. Earlier devotion to understanding how poverty remains tied to cultural and social patterns of productive forces and modes and the attending worldviews that sustain inability to rise above marginality and peripherality in the global order is now probably more useful for the last surviving orientalist ethnic/racial studies. Policy advocacy and various forms of intervention have seemed to be the logical extension of academic (and not-­so academic) area studies.
At the present time, climatic, environmental, financial, technological etc. crises widen the narratives of area studies and create spaces for security issues in inquiries at higher geographic scales. (Others may look at it the other way around—area studies is the handmaiden of international relations and security studies.) This paper asks not only how security and area studies are connected via the concept of securitization but also the impact it may have had on area studies per se. The unit of analysis, this paper argues, has become the threat itself. Studies of such character would now be focused on building an audience for the broadened policy areas. Some authors christen such development the 're-­making of area studies.' By examining some recent works that highlight threat issues (and policy prescriptions) in their area studies projects, this paper seeks to draw some patterns in sketching the development of the securitization trend in area studies, especially in Asia.
Asian Studies in the 21st Century: Globalization, Liberal Democracy, and the Politics of Post-Cold War Area Studies by Janus Isaac Nolasco
Modern area studies/Asian Studies in the United States flourished amidst the political exigencies of Cold War America.  As part of the battle against communism, American universities and organizations like the Ford Foundation funded studies on various Asian regions, especially Southeast Asia. The Viet Nam War was the high point of this engagement. But since the war ended in 1975, funding for Area Studies and Asian Studies programs in the United States gradually declined. By the 1990s, as the Iron Curtain came down, scholars in the U.S. were pronouncing the end of area studies amidst program closures and funding withdrawals. Area Studies/Asian Studies managed to survive, however. But with no Cold War, the motivations of scholars to engage in Asian Studies/Area Studies—and the historical conditions of their research—inevitably changed. Taking stock of these shifts, I show that Asian Studies/Area Studies scholarship since the 1990s— with special emphasis on Philippine and Filipino-American Studies and Middle Eastern and Islamic Studies amidst the War on Terror—has featured a critique of nation-based or nationalist scholarship in favor of a regional, transnational, and global historiography; a resistance to Orientalism and Eurocentrism; and the growing visibility and influence of mobility and migration, all of which dovetail with globalization and the values of liberal democracy, such as self-determination, tolerance, respect, openness, diversity, and inclusiveness.
ABOUT THE PRESENTERS FROM UP ASIAN CENTER
Rolando Talampas is Associate Professor and current College Secretary of the Asian Center, University of the Philippines Diliman. Professor Talampas also handles several graduate courses at the UP Asian Center, including Research Methods in Asian/Philippine Studies and Seminar on Southeast Asia. He handles a few courses as faculty affiliate of the UP Open University-MA ASEAN Studies Program. Among his latest publications is "Transport and Mobility: The Filipino Via Crucis" which appeared in Cars, Automobility, and Development in Asia: Wheels of Change (Routledge). View his faculty profile here.
Janus Isaac Nolasco is University Researcher at the Asian Center, University of the Philippines Diliman. The Managing Editor of Asian Studies: Journal of Critical Perspectives on Asia, he completed his MA on Asian Studies, majoring in Western Asia. His research interests include literature, migration, Islamic and Middle Eastern Studies, particularly premodern history; philosophy and religion; Philippine popular culture, and the interface between political economy and subjectivity. His essays have been featured in the Kyoto Review of Southeast Asia and The Manila Review, among others.
ABOUT THE ORGANIZERS
The Asian Politics & Policy (a Wiley-Blackwell/Policy Studies Organization journal), Department of Political Science of the University of the Philippines, UP CIDS Program on Strategic Studies, and UP CIDS Program on Social and Political Change.
VICINITY MAP And INQUIRIES
For inquiries, please email appeditors2011@gmail.com. For directions to the venue, please view the vicinity map.