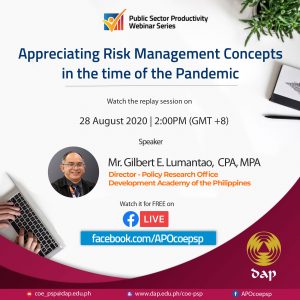 As the Center of Excellence on Public Sector Productivity, the Development Academy of the Philippines (DAP) will be hosting the Public Sector Productivity Webinars. The initiative aims to raise the public's awareness of the subject and its related concepts.
A replay of the fifth session entitled "Appreciating Risk Management Concepts in the time of the Pandemic" will be streamed again via our Official Facebook page: "DAP as APO Center of Excellence on Public Sector Productivity" on 28 August 2020 at 2:00PM PHT. Mr. Gilbert E. Lumantao, the Director of the Policy Research Office, will introduce the concept of risk management and how it can help mitigate the negative effects of both internal and external uncertainties in this time of pandemic.
Share this webinar with your team to make sure they do not miss this FREE learning opportunity. For more productivity webinars and resources, you may Like our Official Facebook Page at https://www.facebook.com/APOcoepsp.
Thank you and see you in our webinars!