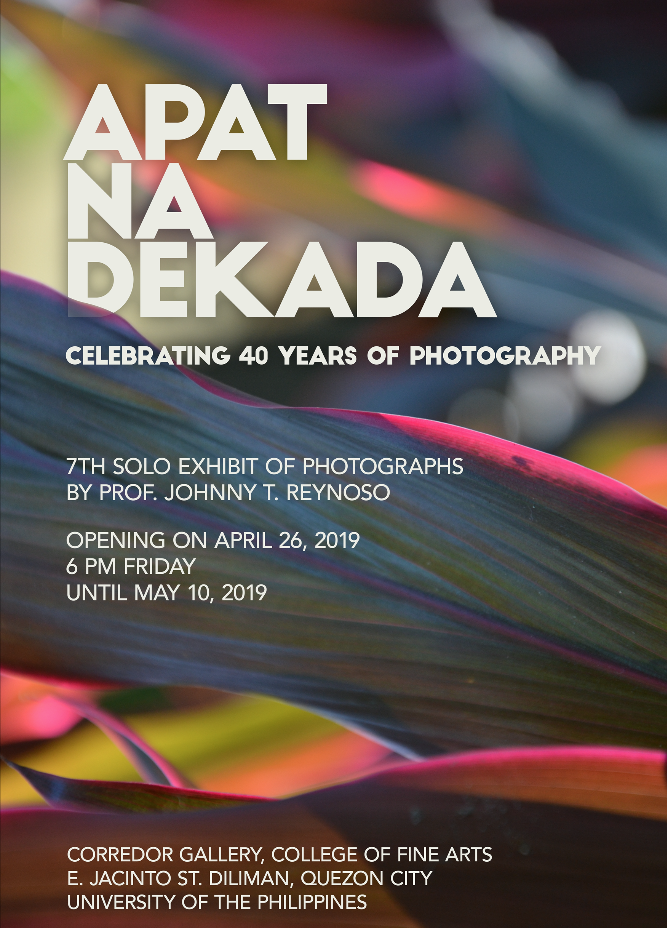 About the Exhibitor
The Artist, Johnny T. Reynoso, worked at the Natural Resources Management Center (NRMC) in 1978. That same year he started his love affair with nature photography. He photographed several nature imagery at the Baguio Country Club, outstanding among them are the three exhibit entries in "Apat na Dekada, Celebrating 40 years of Photography", Prof Reynoso's 7th Solo Exhibit, which will open on April 26, 2019, 6 PM at the UP College of Fine Arts, Corredor Gallery.
There was a hiatus in his love affair with nature photography for more than decade because the companies he worked for allowed little time and opportunity for it. Fast forward to 1987, when he began his career as a faculty member of the UP College of Fine Arts, and started participating in faculty exhibits, to complement teaching work.  He got married in January 1984 and became a father later that year. The rigors of teaching work, being married, having children, pursuing masteral studies, and caring for an ailing mother took a lot of his time and energy, leaving no room for photography.  It was in 1997 when he experienced a breakthrough. He was able to devote his free time for photography. His mother passed away in April 1997, after months in hospitals. More time became available for shooting nature imagery, and enough material was gathered for a two-man show with then Prof. Roger Pagarigan, a good friend in the faculty. Alas, Roger said he was ready. The planned two-man show became J.T. Reynoso's first solo exhibit of photographs entitled "Colors of Nature" which opened in November 1997 at the UP CFA Corredor Gallery, with then UP President Emil Q. Javier and then UP Diliman Chancellor Claro T. Llaguno, as guests of honor.
This would be followed twelve years after by "Colors of Nature 2" which opened in February 2009 at the Mag:net Katipunan Gallery with Marikina City Mayor, Marides C. Fernando gracing the occasion.  Typhoon Ondoy washed away his framed photographs in September 2009.  Well- known artist Cheloy Dans generously helped UP CFA faculty affected by said typhoon. Although the photographs were damaged, the frames survived, and after much cleaning and drying, became functional again. "Colors of Nature 3" became a reality in December 2009 at the Corredor Gallery, with then UP Diliman Chancellor Sergio S. Cao as guest of honor.
Prof. Reynoso switched to digital photography in 2012, retiring his Nikon SLR film camera, after 33 years of efficient service. "Water of Life", his 4th solo exhibit came into being in November 2013, at the Corredor Gallery lobby, held simultaneously with "Spatial Halo-Halo", 3rd serving, Visual Communication and Industrial Design Faculty Exhibit in the main gallery, where two of Prof. Reynoso's works were also on display. He came up with a coffee table book entitled "Colors of Nature, Water of Life, The Story of Four Solo Exhibits" in 2014.
"Water of Life 2", his 5th solo exhibit followed in December 2015 at the Bulwagang Rizal Galeria, UP Faculty Center building. It was one of the last exhibits that were displayed at the UP Faculty Center before it was razed by fire in April 2016.  His 2nd coffee table book created in 2016 was entitled "In Retrospect: Water of Life 2", the story of his 5th solo exhibit. "Tubig at Kalikasan", his 6th solo exhibit, opened in June 2017 at the Corredor Gallery Foyer. Prof. Reynoso will be retiring as a tenured member of the UP CFA Faculty in June 2019. "Apat na Dekada", Celebrating 40 years of Photography, his 7th solo exhibit will feature 40 framed photographs, including 3 from the late 70's, five from the late 90's, 3 from 2009, 22 from 2012 to 2017, and 8 more recent images photographed in 2018 and 2019.