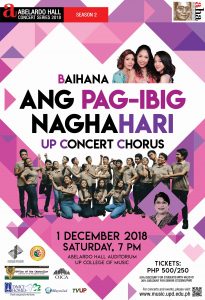 The Abelardo Hall Concert Series, now on its second Season, envisions the Abelardo Hall Auditorium as a center of culture not just for the university, but for the larger community. The Season comprises of monthly concerts that showcase the diversity of talents that are or have been part of the UP College of Music. The intended lineup is a mix of genres and styles that is truly the mark of UP.
For Season 2's fourth and final offering, the UP College of Music and the UP College of Music Alumni Association, Inc., in cooperation with the Office of the Chancellor thru the Office for Initiatives in Culture and the Arts, proudly present: "Ang Pag-ibig Naghahari" featuring the UP Concert Chorus and Baihana.
Since its establishment in May 2008, Baihana has been garnering awards such as the "Best Jazz Band" at the Boy Katindig Songwriting Competition (2012) and the "Best Performance By A New Group" at the 26 th Aliw Awards (2013). Backed up by the dashing Debonair District, Anna Graham, Krina Cayabyab and Mel Torre enjoy executing playful arrangements of vocal harmonies, as the all-female vocal trio simply dive into any kind of music genre.
Pioneers of ChoreoCapella or Choreographed A Capella in the Philippines, the UP Concert Chorus, simply known as Korus, ranked "Number 1 in the World" for Folk Choral Performance at the 2012 Festival Internacional de Cantonigros in Spain. Under the leadership of versatile mezzo-soprano Associate Professor Janet Sabas- Aracama, Korus has been in various international tours and choral competitions and has won numerous festival awards including the Grand Prix at the 6 th International Krakow Choir Festival in Poland.
Catch the icons of stage performance, the UP Concert Chorus and Baihana, on stage together for one night only at the Abelardo Hall Auditorium on December 1, 2018.
Admission tickets are priced at P500 and P250 with special discounts for students (50%), the elderly (20%), and people with disabilities (20%). For ticket reservations, please contact Ms. Faye Manuzon at 926 0026 or 981 8500 loc. 2629 or via email at abelardohall.music@gmail.com. Show starts promptly at 7PM.