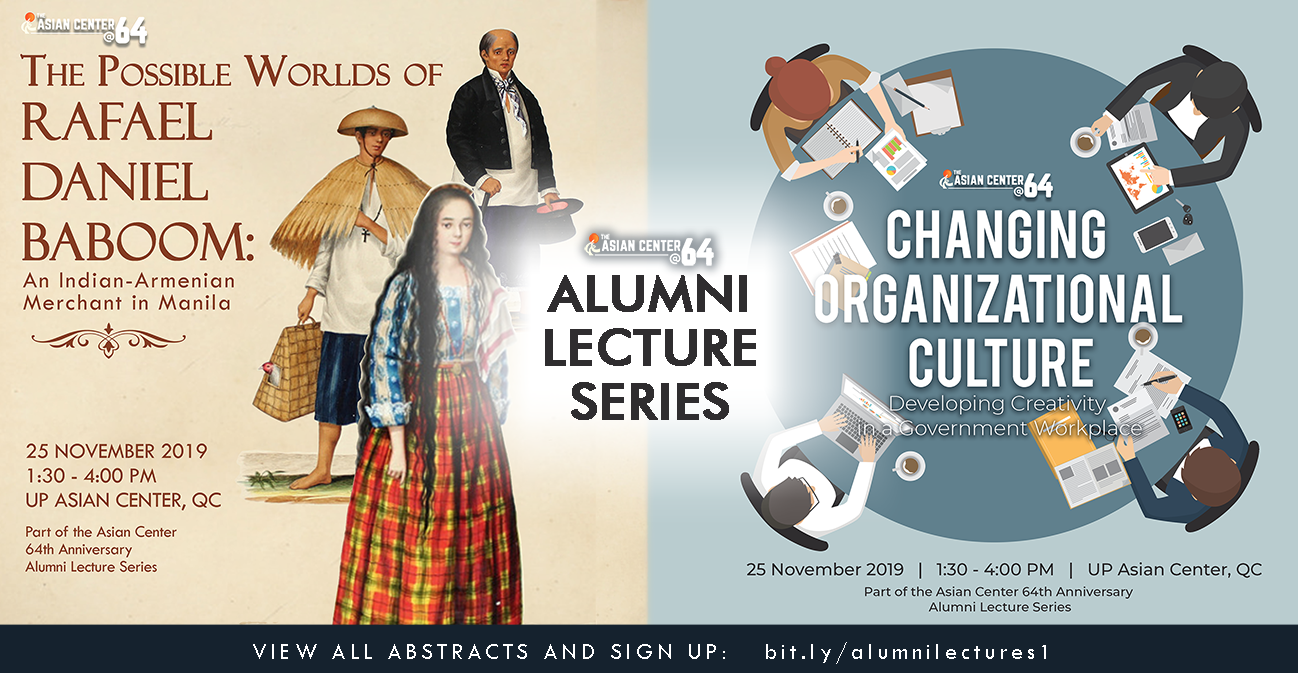 The UP Asian Center will kick off the Alumni Lecture Series on 25 November 2019, 1:30 – 4 pm at the UP Asian Center, QC. The event is free and open to the public. Seating is first come, first served. Walk ins are welcome, but participants are encouraged to sign up.
LECTURES
The Possible Worlds of Rafael Daniel Baboom: An Indian-Armenian Merchant in Manila
Dr. Marilyn R. Canta
This lecture is an attempt to extrapolate, from Baboom's scant biography, the possible circles that he moved around in as a trader during his apparently short life. Very little is known of him, but he is perhaps most familiar to art historians as the Indian-Armenian merchant who commissioned Damian Domingo to paint his well-known Tipos del Pais. Luciano P. R. Santiago documents aspects of his life, but as secondary to the works of the master, Domingo. By an examination of the circumstances of Baboom's existence, we hope to come to terms with the "everyday" of a real-life figure practicing his trade in the 19th century.
Changing Organizational Culture: Developing Creativity in a Government Workplace
Dr. Maria Catalina M. Tolentino
This study is focuses on the employees' mindsets and skills and how they can develop creativity. With the emergence of the Fourth Industrial Revolution where robots have begun to take over some work, humans must do what robots cannot do –  rely on one's creative capacities to perform work. For change to be enduring, it must begin with the individual mindsets because mindsets precede human behaviors. This study is anchored on the following theories and concepts: organizational cultural change, Theory U, changing mindsets and creativity. This paper underscores that although the employees have low level of creativity, they have the potential to raise this through Positive Organization Development (POD) interventions to shift to the desired state.  These will open mostly young employees to innovations at work. For a paradigm shift to materialize, some elements of the organizational culture, must be revisited by way of interventions patterned after the Blondin Organization Planning System.
THE SPEAKERS
Dr. Marilyn R. Canta
Marilyn R. Canta is Professor at the Department of Art Studies, College of Arts and Letters, UP Diliman. She is a graduate of the Tri-College Philippine Studies Program. Her dissertation focused on Indian textiles in the Philippines: Contexts of Encounter and Traces of Practice.
Dr. Maria Catalina M. Tolentino
Maria Catalina M. Tolentino is a Faculty and College Secretary of UP School of Labor and Industrial Relations (SOLAIR). She obtained her PhD in Organization Development at the Southeast Asia Interdisciplinary Development Institute (SAIDI) Philippines.
INQUIRY & VICINITY MAP