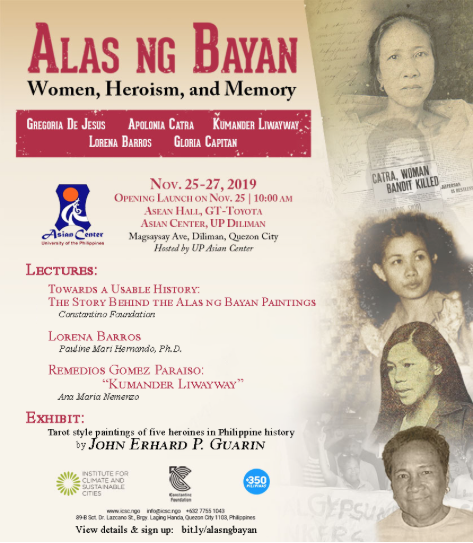 A lecture-exhibit, "
Alas ng Bayan: Women, Heroism and Memory
" will open on 25 November 2019, 10:00 am, and will run until 27 November 2019, at the UP Asian Center, QC. The exhibit features several lectures on, and five tarot-styled paintings of, women who struggled against injustice throughout Philippine history, from the 1896 Philippine Revolution to the Marcos dictatorship. The event is free and open to the public. Seating is first-come, first served. Walk-ins are welcome, but participants are urged to sign up.
Lectures (10:00 am–10:50 am)
Towards a Usable History: The Story Behind the Alas ng Bayan Paintings
Constantino Foundation
Lorena Barros
Pauline Mari Hernando, PhD
Remedios Gomez Paraiso "Kumander Liwayway"
Ana Maria Nemenzo
Message from the Artist
John Erhard P. Guarin
---
The Paintings

The Alas ng Bayan are paintings of five remarkable Filipinas who fought oppression, injustice, and false gender normatives throughout Philippine history. Painted in the style of Tarot cards or sakla, the works mirror a similar mysticism while provoking its viewers to engage, if not decode, subtle symbolisms throughout the images.
Gregoria "Oriang" de Jesus (09 May 1875 – 15 March 1943), also known as Lakambini who, with her husband, Andres Bonifacio, helped organize, grow, and mobilize the Kataas-taasan, Kagalang-galangang Katipunan ng mga Anak ng Bayan.
Apolonia Catra (unknown – 5 March 1905) is the only named female officer in Macario Sakay's armed forces under the command of Lt. Col. Lucio de Vega. Branded a bandit by US authorities, she "dressed in men's clothing and was well-known for her cruelty and reckless courage."
Remedios Gomez-Paraiso (12 July 1918 – 15 May 2014) was a guerilla who fought the Japanese in the Philippines during World War II under the alias Kumander Liwayway. A fearless officer of the Hukbong Bayan Laban sa Hapon, she rode headlong into battle astride a horse, pistol in hand and wearing makeup.
Maria Lorena Barros (18 March 1948 – 24 March 1976) was the founding chair of Malayang Kilusan ng Bagong Kababaihan ( MAKIBAKA). Laurie obtained in 1970 a degree in anthropology from UP, and went underground to fight the Marcos dictatorship.
Gloria Capitan (1959 – 01 July 2016) was an anticoal activist and human rights defender affiliated with the Coal-Free Bataan Movement. On 1 July 2016, Gloria was assassinated in her own videoke cantina by two unidentified gunmen.
---
The Artist and the Speakers

John Erhard P. Guarin is a Filipino painter, poet, and hip-hop recording artist from Tondo, Manila. He obtained a Bachelor's Degree of Fine Arts in Visual Communication at Eulogio Amang Rodriguez Intitute of Science and Technology. As a professional painter, he crafts his works using mainly oil on canvas.
Dr. Pauline Mari Hernando is Assistant Professor at the Department of Filipino and Philippine Literature, College of Arts and Letters, UP Diliman. Her research interests are literary theory, Philippine literary movements, and gender and sexuality in literature.
Ana Maria Nemenzo is the National Coordinator of WomanHealth Philippines.
About the Lecture-Exhibit
Alas ng Bayan raises awareness about the intersections between women, history, memory, climate change, and citizenship. It seeks to inject history and feminism as fundamental elements in the way the youth respond to the worsening state of national forgetting and the climate crisis. The exhibit intends to mobilize sectors not normally active in the climate debate by offering new notions of citizenship and nationalism responsive to the multiple emergencies we face today. It is organized by Institute for Climate and Sustainable Cities; Constantino Foundation; 350.org Pilipinas; UP Asian Center. For queries, please email asiancenter@up.edu.ph.