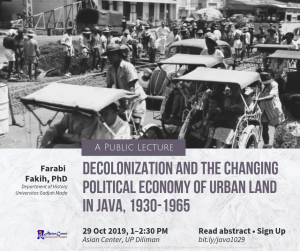 The UP Asian Center will hold the public lecture, "
Decolonization and the Changing Political Economy of Urban Land in Java (1930-1965)
,
" 
on 29 October 2019, 1 – 2:30 pm at the UP Asian Center, Quezon City. The event is free and open to the public. Seating is first come, first served. Walk-ins are welcome, but participants are encouraged to sign up.
 ABOUT THE LECTURE
The lecture discusses how decolonization affected urban space production in Java, Indonesia, particularly in the cities of Surabaya, Semarang, Bandung and Jakarta. During the late colonial period, the capitalistic character of urban space production displaced the Indonesian urban population that had no access to the real estate market. The study thus analyzes how the changing relationship between political parties, rising Indonesian political client and the surge of inter-state players, such as the armed forces, political parties and state-owned companies, affected the way municipalities engage with the real estate market. It highlights how the changing strategic importance of the kampung, the informal settlements of Indonesian cities, went alongside the collapse of the institutional capability of municipalities in determining the production and distribution of urban land. The lecture also mentions the entry of new parties that determine urban space production and their effects on the development of postcolonial Indonesian cities.
 ABOUT THE SPEAKER
Farabi Fakih teaches at the Department of History of Gadja Mada University, Yogyakarta. He obtained his degree for BA, Masters and PhD in History from Leiden University in Netherlands. He has a forthcoming book titled ""The Making of Authoritarian Modernization. The Foundation of the New Order State in the Early Independence Period (1950-1965)" with KITLV Press.
INQUIRIES and VICINITY MAP