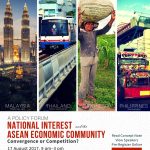 ​The Bugkos Research Program of the UP Asian Center will hold a policy forum, 
National Interest and the ASEAN Economic Community: Convergence or Competition?
, on 
August 17, 2017, 9:00 am–3:00 pm
*, at the Seminar Room, GT-Toyota Asian Cultural Center, Asian Center, UP Diliman. The forum is free and open to the public, but 
pre-registration online 
or 
by phone 
is REQUIRED.
ABOUT THE FORUM
The forum will bring together leading political economists from Indonesia, Malaysia, Thailand, and the Philippines to gain a better understanding of country processes for the ASEAN Economic Community initiative: What are the stakes for each country's participation in the ASEAN Economic Community (AEC)?  How is each country preparing their domestic economies and constituencies for AEC integration? How are these countries positioning themselves in the regional trade treaties in relation to the changing global economic architecture?
Speaking at the forum are country experts:
Philippines: Dr. Josef Yap, professorial lecturer, UP School of Economics and former president, Philippine Institute for Development Studies (PIDS)
Thailand: Dr. Wisarn Pupphavesa, Senior Adviser for International Economic Relations, Thailand Development Research Institute
Malaysia: Dr. Tham Siew Yean, Senior Fellow, Institute of Southeast Asian Studies (ISEAS), Yusof Ishak Institute; and,
Indonesia: Dr. Shofwan Al-Banna Choiruzzad, Research Fellow, ASEAN Study Center, Faculty of Social and Political Sciences, University of Indonesia.
ROUNDTABLE AND REACTORS
After the presentations, a roundtable will proceed with representatives from the government and the private sector giving their reactions in order to further understand the road ahead for the Philippines and the rest of the region. Joining the forum as lead reactors include Dr. Erlinda Medalla, Philippine Institute for Development Studies and Ms. Myrene Sabina Bedaño, Department of Trade and Industry.
ABOUT THE ASEAN ECONOMIC COMMUNITY
In December 2015, the ASEAN member-states formally launched the ASEAN Economic Community (AEC) in line with the goal of developing a single production base and market. Indeed over the past decade, much of the work has focused on reducing national barriers to foreign trade and investments as outlined in the AEC 2025 Blueprint. Yet, challenges remain especially at the domestic and global levels. LEARN MORE and READ THE FORUM'S CONCEPT NOTE
ABOUT THE ORGANIZERS
The Asian Center Bugkos Research Program is supported by the Emerging Interdisciplinary Research Program of the University of the Philippines. For more information on Bugkos, please visit theirwebsite. Other sponsors are the UP Political Science Department, UP Third World Studies Center, and the Asia-Pacific Pathways for Progress Foundation.
VENUE And VICINITY MAP
For directions to the venue, please view this vicinity map or go to Google Street View.
INQUIRIES And REGISTRATION
Pre-registration through Google Form or by phone is required. To confirm your attendance please call the Bugkos Research Program Office, Asian Center, UP Diliman at 981-8500 local 3586. If you register but are unable to attend the forum, please inform the Bugkos Office as soon as possible by email or by phone. For inquiries, you may contact Dr. Antoinette Raquiza, Bugkos Program Leader:araquiza@gmail.com or Sascha Gallardo, Bugkos Operations Manager: smgallardo1@up.edu.ph
*Earlier scheduled to end at 4 PM