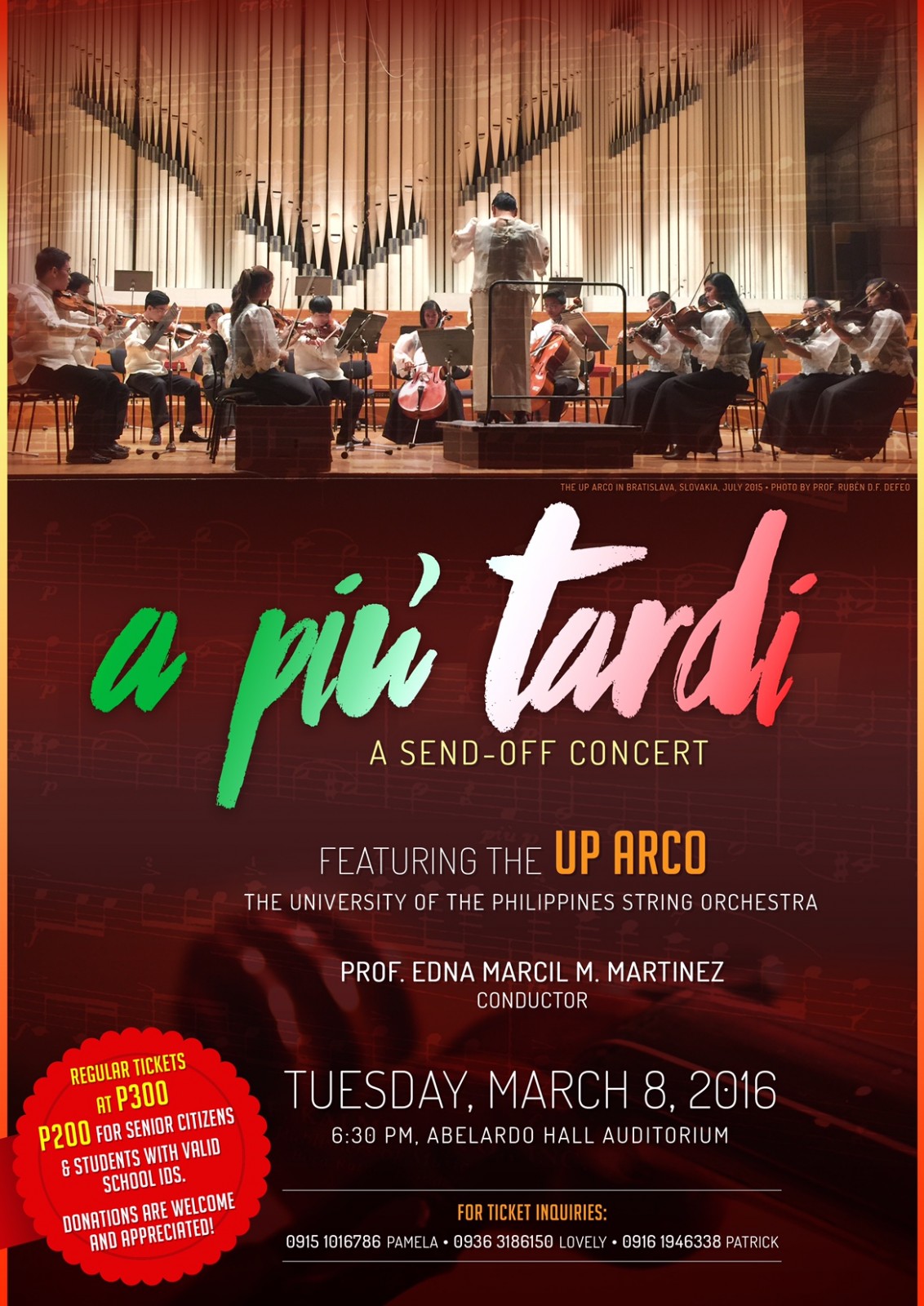 The College of Music presents the UP ARCO String Orchestra in a sendoff concert entitled A piú tardi on March 8, 2016, 6.30 pm, at the Abelardo Hall Auditorium.
The UP ARCO leaves for Florence, Italy to participate and compete in the 2nd Music Festa from March 15-17, 2016.
The invitation came from no less than the Festival's Artistic Director, Dr. LEONARDO SAGLIOCCA, who personally communicated with the UP ARCO.  He further waived all application requirements to ensure that the Philippine string orchestra graces the festival.
In the letter invitation dated 10 November 2015, Dr. Sagliocca cites that he "had the pleasure to listen and evaluate, as Jury member, the remarkable 'UP ARCO' string orchestra in Bratislava, Slovakia, last July 2015 during the Youth Festival. I've been impressed by the beauty and the purity of sound, the very good 'insieme' (how the instruments reach an uniform sound, tonally and rhythmically) and by the choice of an interesting repertoire. They had delighted and entertained the audience and stolen the eye with their beautiful concert dresses and their youth enthusiasm."
During the concert, nine visual artists will be recognized for their donations of artworks to assist the UP ARCO in its fundraising campaign for its trip to Italy. They are Bernie Balagtas, Norberto Carating, Denes Dasco, Chris Lucas, Mario Parial, José Danilo Silvestre, Jun Tiongco, Nestor Olarte Vinluan and Janice Liuson-Young.
The members of the UP ARCO are all bona fide students at the UP College of Music.  Since the members come from families with very modest means, UP ARCO raises funds through financial campaigns like this to help these young artists make the trip to represent the country in the prestigious festival.
Prof. Edna Marcil Martinez steers the UP ARCO as its director and conductor. The members are Pamela Lee Almeda, Julienne Bonacua, Stephen Cruz, Patrick Espanto, Bernice Go, Christine Laron, Lovely Masaquel, Jerome Naval, Joses Perez, Vince Placido, Celyn Ponce, Emlyn Ponce and Othelo Tron Salatan, with Janine Samaniego as concertmaster.  Prof. Rubén D.F. Defeo heads the delegation.