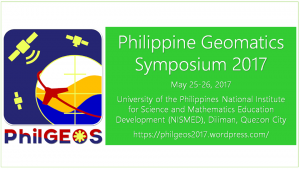 May 25-26, 2017
Philippine Geomatics Symposium (PhilGEOS) 2017
"Geospatial Digital Data for Development (Geospatial 3D): Acquisition, Modeling, Analysis, Visualization, and Applications of 3D Data"
UP NISMED Diliman
The Department of Geodetic Engineering is once again organizing the Philippine Geomatics Symposium (PhilGEOS) 2017 which will be focusing on the theme Geospatial Digital Data for Development (Geospatial 3D): acquisition, modeling, analysis, visualization, and applications of 3D data. Symposium sub-themes include the following:
•       Land Administration
•       Climate Change Adaptation – Disaster Risk Reduction
•       Resource Assessment
•       Visualization and Augmented and Virtual Reality
•       Infrastructure (BIM)
•       Other geomatics applications
PhilGEOS2017 is open to students, educators, researchers, practitioners and users of geospatial technology, and other sectors interested in geomatics.
Everyone is invited to submit extended abstracts for oral and poster presentations in the parallel technical sessions of PhilGEOS2017. The extended abstract template may be downloaded from the symposium website. The PhilGEOS2017 is also soliciting proposals for 3-hour workshops to be held in the afternoon, May 26, 2017.
Registration fees are as follows:
Early Bird: Php 1200.00 (1 Day), Php 2000.00 (2 Days)
Regular: Php 1500.00 (1 Day), Php 2500.00 (2 Days)
Undergraduate Student: Php 1200.00 (1 Day), Php 2000.00 (2 Days)
For the symposium programme and other details, please visit https://philgeos2017.wordpress.com/ or contact the PhilGEOS2017 secretariat through philgeos2017@gmail.com and numbers +63.2.981.8500 loc. 3124; +63.2.920.8924.
For latest updates regarding the symposium, Like the philgeos FB page: fb.com/philgeosymposium.