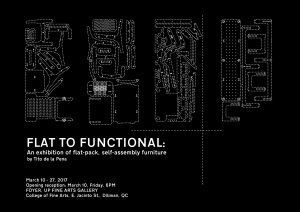 10-27 March 2017
Flat to Functional
An exhibition of flat-pack, self-assembly furniture prototypes
Foyer, UP Fine Arts Gallery, Bartlett Hall. E. Jacinto St.
Exhibit opens on March 10, 6:00 p.m. 
Exhibit of flat-pack furniture prototypes opens on March 10 at UPCFA 
Flat-pack furniture design offers practical solutions for people in need of affordable and almost ready-to-use goods. Through digital design development and production, it can now be implemented more quickly and at significantly less cost, providing people with more economical options for home furnishing needs. Being easily transportable, these products can be efficiently deployed to communities in disaster-affected areas and other offsite places.
This one-man exhibition by industrial designer and UPCFA faculty member Tito de la Peña takes advantage of the digital design workflow and explores the use of the flat-pack model as a key design method.
The show features 11 design prototypes for seating furniture and desks for everyday use. The goal is also to create furniture that does not require adhesive bonding or hardware fasteners by exploring interlocking joineries. Almost all pieces were able to achieve this except for alpha prototypes which needed retrofitting of metal brackets and bolts.
For inquiries, please contact the UP Fine Arts Gallery at upcfinearts@gmail.com.
Contact info: Ms. Glory Jane Moron, 920.9910 (telefax) or 0920.1253393
Open to the public