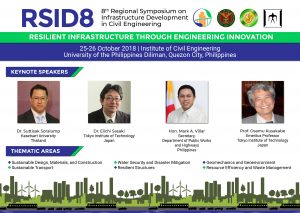 Date : October 25-26, 2018
"Resilient Infrastructure Through Engineering Innovation"
Venue: Institute of Civil Engineering, University of the Philippines Diliman, Quezon City, Philippines
Time: 8 a.m.–5 p.m. 
The symposium has been a meeting ground for young researchers and engineers from the Philippines, Japan, Thailand and other Asian countries to discuss and exchange experiences and ideas and to promote advancement in civil engineering for infrastructure development in the region. Seven symposia have been organized by University of the Philippines Diliman, Kasetsart University, and Tokyo Institute of Technology since its establishment in 1995. The last symposium held in Manila was in 2006.
The theme for this year's symposium is "Resilient infrastructure through engineering innovation". Topics on sustainable design and construction, sustainable transport, sustainable water infrastructure, materials, structures, and geomechanics, and resources and sustainability are expected to be discussed in RSID8. The seminar will offer a wealth of opportunities to improve the participants' knowledge and expand their network and reach.
With pre-registration. For inquiries, email the organizing committee at rsid2018@up.edu.ph.