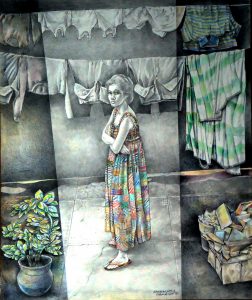 9-30 September 2016
A Visual Diary: Impressions and Reflections
First one-man exhibition of Prof. Emmanuel Garalde
Corredor Gallery and Foyer, UP Fine Arts Gallery, Bartlett Hall. E. Jacinto St.
Exhibit opens on September 9, 6:00 p.m.
The experience of grief often pushes people towards habit-forming binges. For Prof. Emmanuel Llacuna Garalde, however, the experience of negative emotions is channeled into creative energy. The show is a visual diary of his experiences and memoirs: from the loss of his wife of 42 years; impressions of odd characters encountered during his travels; influential personalities of his childhood; well-known landmarks in the country and abroad as well as picturesque seascapes. These are captured in Garalde's distinctively intricate style and vivid color palette.
The exhibit marks Prof. Garalde's final year in serving the University of the Philippines. He has taught at the UP College of Fine Arts for over 43 years, dedicating his life to honing young artists by teaching and developing core courses and photography subjects. As an administrator, he was the former College Secretary, Chairperson of the Department of Visual Communication, and a proponent of the CFA's Industrial Design program. He retired in 2013 and continued teaching as a Professorial Lecturer since then.
The exhibit also offers a glimpse of the show titled Available Light, a 1981 photo exhibition by students mentored by Prof. Garalde. The exhibit travelled to the Hyatt Terraces in Baguio, the University of Baguio, and the Cultural Center of the Philippines in 1982.
Contact info: Gilda Sychingiok, 920.9910 (telefax) or 0943.4546204.
Open to the public