Palma Hall Building
April 20  –  5:30- 8:00 PM
April 21  –  9:00- 4:00 PM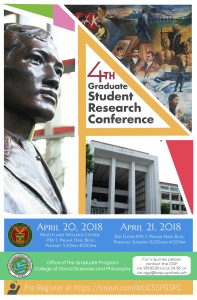 The conference aims to bring together graduate students who engage in social science and philosophy research, and facilitate a productive exchange of insights and findings from studies conducted for their theses or dissertations, theoretical analyses, integrative papers and historical/local biographies. There will be a Round Table Discussion on Research Methods to be led by distinguished faculty of CSSP, and 46 contributed papers will be read in  Parallel Sessions, on the second day of the conference. 
The plenary lecture by Dr. Fidel R. Nemenzo highlights the opening program of the conference. 
The conference is FREE for CSSP students. Registration Fee of P250 for non-CSSP students. Participants are required to register online at : https://tinyurl.com/4thCSSPGSRC 
to be given Book of Abstracts.
For inquiries, please contact the CSSP Office of the Graduate Program at 981 8500 loc 2438 or email ogp@kssp.upd.edu.ph.