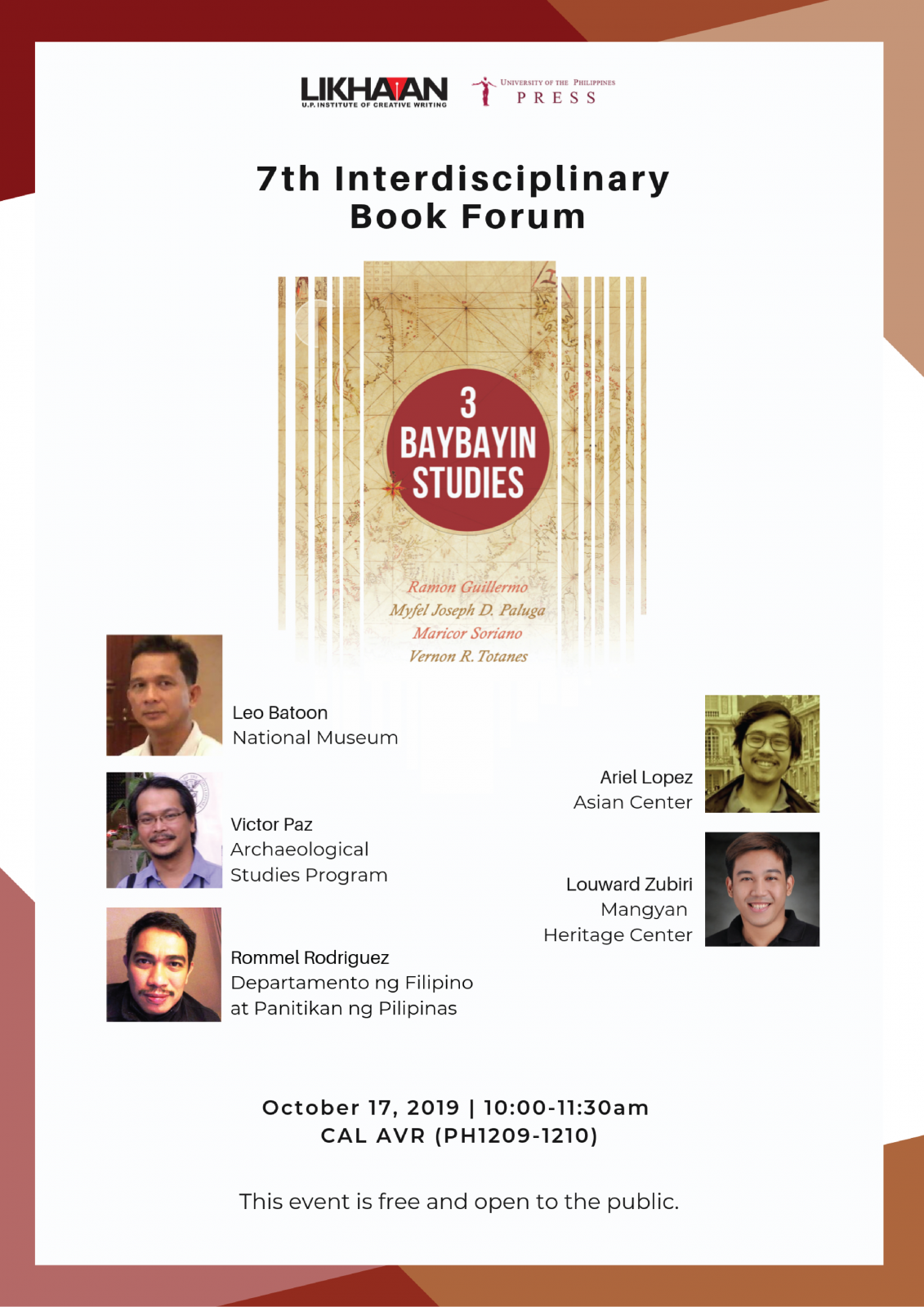 This event, brought to you by the LIKHAAN: The UP Institute of Creative Writing in partnership with UP Press, is happening tomorrow, 17 October 2019, Thursday, 10:00-11:30am at the CAL AVR (1209-1210) in Palma Hall Pavilion 1, UP Diliman. The book-in-focus for the 7th Interdisciplinary Book Forum is 3 Baybayin Studies. 
This book by Ramon Guillermo, Myfel Joseph D. Paluga, Maricor Soriano, and Vernon Totanes presents some of the most scientific and rigorous analyses of the most important Spanish colonial baybayin documents that have been found. Now that the symbolic value of our archipelago's ancient aksary has found renewed political currency, the time has come to take intelligent and dispassionate stock of the existing evidence. This will help not only local academics, historians, and pundits, but also ordinary Filipinos to understand more clearly the baybayin's rightful place in our national memory and in our national life.
The panel of discussants for the sixth IBF will be Mr. Leo Batoon (National Museum), Dr. Ariel Lopez (Asian Center, UP Diliman), Dr. Victor Paz (Archaeological Studies Program, UP Diliman), Dr. Rommel Rodriguez (Departamento ng Filipino at Panitikan ng Pilipinas) and Mr. Louward Zubiri (Mangyan Heritage Center). The discussants will share their thoughts about the book, particularly as it relates to the nature and context of their respective disciplines.
We encourage everyone to come early because seats are limited. Please come and join the dialogue!